Guide to using DVD Decrypter
I ran into my first DVD with the 'New' copy protection, the latest version of DVD Decrypter knows how to handle it, its basically bad/dummy sectors and structure protection. If you notice multiple read errors you may have a DVD with a newer protection called 'Arcoos' it's currently found on Sony issued DVD's the solution is to install '
AnyDVD
' so far it's the only solution and a trial period of 21 days is available but afterwards to continue using it costs $39, it should solve the issue with any future protections with simple updates. The unique thing about using AnyDVD is that you still use all the regular ripping tools! I have a tutorial about using it
Here

Fire up DVD Decrypter, you need to have the DVD to copy in your DVD drive (if you have multiple drives make sure the one that has the DVD is selected). You need to select file mode as in the picture below.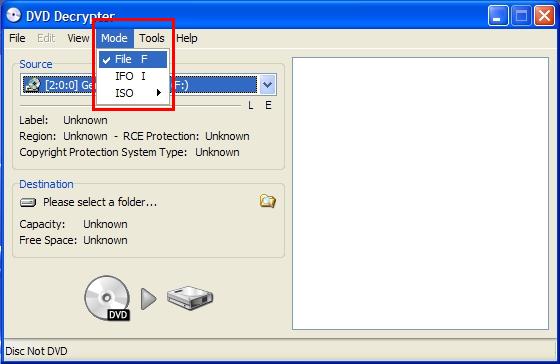 From the 'Tools' section select the 'Settings' option, this will open a new dialogue box where all the advanced functions are here for you to change.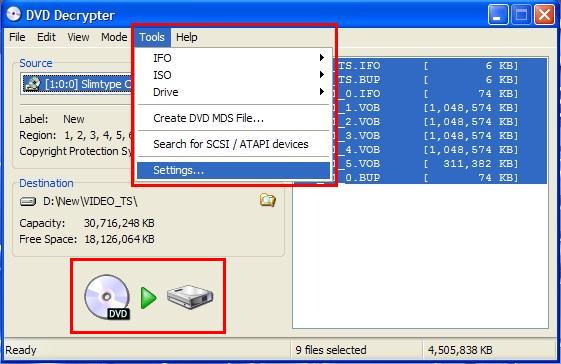 The only Tab we need to change is the 'General' tab, once selected you need to choose your default location for the files to be copied to, in my case I used 'D:\Movies\' with 'Semi Automatic' what this does is place all the movie files under your selected directory but the movie files are copied into a directory that is created based on the name of the DVD title, don't forget to hit 'OK' when done.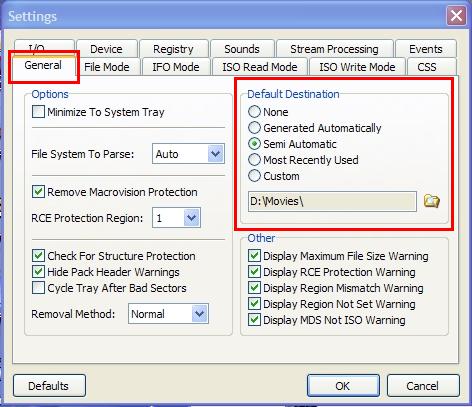 From the 'Edit' menu use the 'Select All' option this will force the program to copy all the files it found on the DVD over to the selected directory from the previous step.
Hit the 'DVD to HD' icon and the program will start the decryption process, you should see a window similar to the photo below.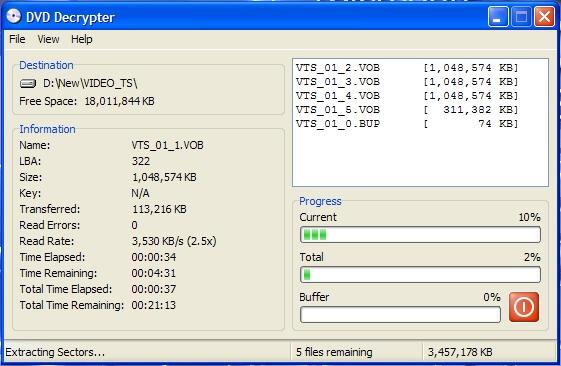 Depending on the speed of your reader it can take anywhere from 30-80 minutes to decrypt and copy all the selected files.