PalmOne Zire 72 Handheld Review
I've owned my fair share of handheld devices I went from a Sony Clie (Grayscale) to a Toshiba Pocket PC back to Sony Clie and now I've purchased the palmOne Zire 72, if your wondering why I've had so many I guess it started with the idea of having a full set of notes at my fingertips. Then I discovered I could play games, which was handy while waiting for my daughter at various activities, began playing a game called
Bejeweled
and was quite happy (and hooked) until a friend whipped out his palm with the color version (you can guess what happened) I decided it was time to upgrade!
I started looking around and decided to purchase a Pocket PC over a palm for a couple of reasons the main one was the ability to play MP3's (palm did not offer this at the time). After using it for a few weeks I was shocked to discover a cracked LCD screen, must have been a defective screen I thought. Nope turns out the screens are fragile and I must have bumped mine along the way, did I mention it's not covered as it falls under the abuse clause, a cracked screen is from abuse of the user! I was rightly upset and spoke with various levels of support from the store and at Toshiba, no dice! So I called a place that repaired PDA's after getting the quote I calmly placed the Toshiba on the floor and jumped up and down on it until I was relieved of all my frustrations and headed out to the store to purchase a new and hopefully improved PDA
| | | |
| --- | --- | --- |
| I found a good deal on a 'end of model' and 'open-box' Sony Clie SJ33 which also played MP3's and had a feature I was in love with, a semi-transparent flip up cover that would protect the screen and it looked like one of those gadgets from Star Trek! | | |
I used this one for over 16 months and had only one issue with it, those darn Sony memory sticks I was only able to use the 128 meg stick and my device did not support the newer larger 'Pro' sticks. The second nail in its coffin came when I received an e-mail announcing
Bejeweled '2'
I Downloaded it and when I tried to run the game quickly found out I needed Palm Os 5.2 or higher! Unlike other operating systems you don't get upgrades, they only release a new Os when a new piece of hardware comes out that the previous Os doesn't work with, even if you got the upgraded Os you don't have the hardware it needs!
Once again I headed out to the store to purchase a new and hopefully improved PDA this time I was going for the most expensive (within reason) PDA I could find with all the bells and whistles I'd hopefully ever need (well at least until next year) I settled on the Zire 72 for the long list of features listed below.
According to the Zire 72 packaging
''Now you can shoot photos and capture and watch video clips anywhere you go. Or listen to MP3s as you take your tunes wherever life takes you. When it comes to productivity, the Zire 72T handheld means business. Create and edit Word- and Excel-compatible files. Or get wireless e-mail and Internet access with its built-in Bluetooth technology (requires a compatible Bluetooth-enabled mobile phone and an ISP, both sold separately). All on a brilliant color display that keeps your whole life looking good.''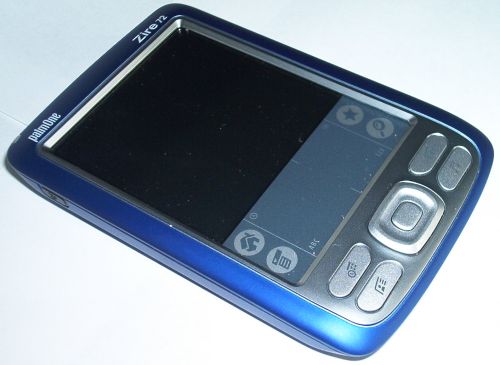 Clearly they did a nice job on the design, the first thing I noticed was the bright blue paint job they had chosen, I was expecting a smooth slippery surface but was surprised to find it felt like a rubberized surface it fits in your hand and feels like it'll never slip out! The rest of the device looks and acts like any another Palm based device, I was initially happy to see a mini-usb connector as I could now use one cable for my 'Zen Micro', Digital camera and the Zire 72 but was upset to learn it did not act as a charger for the battery, you needed to use the supplied wall-wart transformer. They should have included a dock or cradle as connecting a power wire and then a mini-usb cable is a pain, worse with the wires lying around on the desk, if it would have charged from the mini-usb cable (if even 5x slower) it would have been a better arrangement for those of you who want to be able to charge it without lugging the supplied transformer.
1.2 mega-pixel camera
One of the main features is the 1.2 mega-pixel camera built into the rear of the unit, it uses a different sensor than a normal digital camera, it doesn't say it anywhere but it appears to be a CMos sensor (found in webcams) this doesn't mean it takes bad pictures, they can look very good but this camera takes a more 'grainy' photo. have a look at the photos below, one is from my old 1.2 mega-pixel Kodak camera I'm sure you'll be able to figure out which one it is.
Click on any photo to enlarge it
If you don't have your regular camera with you it will get the job done. One item that my Clie SJ33 had which I think should be standard is a user replaceable battery, the Zire 72 doesn't have one. Depending on you take this can be very negative, I guess if you don't mind an upgrade when the battery fails, I say upgrade because the cost of the battery replacement not including the effort and time to ship the unit back for servicing will probably cost as much as a new unit with the same or better features.

Palm OS 5.2.8.
This version of Palm OS includes numerous upgrades, support for Bluetooth wireless networking, Enterprise-class security, increased system performance, and Graffiti 2 writing software. Windows users are able to synchronize their contacts, tasks, and calendar with Microsoft Outlook. I guess that's all good but I just want to play Bejeweled '2', thankfully it runs smooth as can be and rivals the PC version in both sound and graphics.
What does this 'Bluetooth' do for you anyway?
The answer is connectivity, but the catch here is you'll need a Bluetooth enabled cell phone to make much use of it. If you have one you can use the connection through you're cell phone to surf the Internet and check your e-mail. I would have preferred to have a wireless 802.11b/g as I would be able to surf the Internet through my wireless router at home, but 'Bluetooth' makes more sense for those of you who want Internet access on the road.
The Zire is trying to be the perfect PDA by offering everything the corporate user would need but adding a slew of features that will attract everyone else! This could be a mistake as any device that attempts to do everything well usually fails at some level leaving one group of users upset, this doesn't appear to be the case with the Zire 72. I use it for work and play and found that it was equally at home for both tasks, productive and non-productive. All of the software I threw at it ran fine regardless of which Plam Os it was written for, The sound produced by the built in speaker was quite good for a PDA, easily outshining the previous PDA's I have used to date, but realistically one should be using headphones anyway.
Available memory
The amount of available memory was a non-issue as I struggled to find enough programs to load onto the Zire 72 to get it close to capacity, but that will change if you expect to take a lot of photos or carry around a decent list of MP3's to play. Obviously a memory card is required if you plan to be using the Zire for these options, I purchased a 1 Gig memory card ($150 Canadian) and found the Zire 72 had no issues with it and access times were fast. I did notice a minor issue after I copied my entire photo collection to the memory stick, the photo viewing software was struggling to cope with the amount of information while attempting to make thumbnails of all the photos, I ended up reducing the amount of installed photos to less than 400 and also reduced them all to 320x320 which is the actual screen size of the Zire 72.
MP3 Playback
I threw various bit rates at the installed audio player and haven't seen any that would not play (unlike the Sony Clie I had) sound quality is very good with no noticeable issues, The Zire will automatically turn off the screen after a preset time (which is user adjustable) while playing MP3's to prolong the battery life, which is a good 5 hours in this mode.
Negatives
I can't really fault anything other than the lack of charging support through the USB cable, that coupled with an expected 2-3 hours of battery life under constant use (worse if you turn on Bluetooth) mean you'll be watching the battery level constantly between hitting the charger! Although I have not had any issues charging my Zire, some users report they have had issues, requiring them to perform a reset before the Zire would accept a charge. The issue of chipping paint has also been raised, again I have not had any issues myself but others are reporting problems.
Final thoughts
The Zire 72 has had snappy performance under all conditions, in fact I have not needed to perform a soft reset since I started using it, the Palm Os is proven and extremely stable. The feature set the Zire 72 offers is currently unmatched by any PDA as this price ($350 Canadian) It performs all of its tasks well and the included software bundle offers almost all of the items any users will need. This puts it right into the sweet spot where anyone looking for a full-featured PDA won't have to spend a large sum of money. I have also read in some reviews that the location and feel of the power button is an issue but I found if perfectly fine and had no issues with it.
Based on Price/Features and performance it deserves a 9/10

I have some reservations from the reports of charging issues and paint chipping/peeling. I will mention a friend purchased a factory refurbished Zire 72 and his has paint chips along top corner where you remove the stylus, he also mentioned he has had some issues with charging as well. These may be isolated events and being a factory refurbished model who knows what the initial problem was that caused the return. I will of course monitor both issues and report back if either occur on my unit. These issues may be a result of a bad batch and it's also possible PlamOne has rectified these issues for the later shipments. Until I see these issues for myself I have no reason to reduce the given score and can only caution users that they have been reported by others.

As always I hope this article has been useful
biline