Palm Tungsten T5 Handheld PDA Review
I have quite a bit of information for you to wade through so I'm including this handy table of contents to help you jump directly to a section.

Introduction
So what makes me qualified to tell you if this or any PDA is worth the money, I guess having used quite a few PDA units in my lifetime helps, in fact I've owned the following units

Sony Clié PEG-SL10
Sony Clié SJ22
Sony Clié SJ33
Toshiba Pocket PC e330
PalmOne Zire 72
Treo 600
Palm Tungsten T5
I happen to be a big multi-media lover so any device had better play games, MP3's and videos while allowing me to organize the way a PDA should. I always do a lot of research before making a purchase and my thought process is probably much different than most as I set pretty lofty goals for a new device then I settle for what I can actually get. In this case I had three tough choices to make as these three units all made by Palm seemed to fit the bill but each had good and bad points that really made it hard to decide. so lets look at what all the fuss was about.
Comparison chart

Palm Tungsten T5

Palm Lifedrive

Palm T|X

Screen Type:

Transflective TFT color LCD 65K colors

Transflective TFT color LCD 65K colors

Transflective TFT color LCD 65K colors

Resolution:

480 x 320

480 x 320

480 x 320

Memory Type:

NAND Flash Memory

NAND Flash Memory

NAND Flash Memory

Processor:

416 MHz Intel
XScale ARM

416 MHz Intel
XScale ARM

316 MHz Intel
XScale ARM

Expansion ports:

SD/SDIO/MMC

SD/SDIO/MMC

SD/SDIO/MMC

Networking:

Bluetooth 1.1

WiFi 802.11b and Bluetooth 1.1

WiFi 802.11b and Bluetooth 1.1

Battery type

1300 mAh Lithium Ion

1660 mAh Lithium Ion

1250 mAh Lithium Ion

OS Version

Palm OS 'Garnet' 5.4.0.3.23

Palm OS 'Garnet' 5.4.0.3.23

Palm OS 'Garnet'
5.4.9.0

Memory

55 MB

55 MB

100 MB

Storage:

160 MB Internal Memory

4 GB Hitachi micro drive

None

Battery life:

5 hours

3 hours

5 hours

Current price (in Cad $)

$349

$549

$399
I will probably regret this but here goes, why in the heck would users want or care about Wireless or Bluetooth! I don't understand the issue, if you want to surf the internet and read your e-mail on a micro-sized screen then for heaven's sake pick-up a Treo 650 or a Blackberry! Normal users who want some portability use AvantGo to download any webpages they wish to read to their Palm. If you need to be connected to the internet then the Treo/Blackberry devices are the best solution period!

The Tungsten T5 is basically a Lifedrive without the 4GB mico hard-drive I added a 2GB SD Card for $90 and viola a Lifedrive with 2GB storage at a fraction of the cost!
NAND Flash Memory
When I initially picked up the T5 I was regretting the purchase as it was locking up and resetting constantly on me, after some research I found out the reason. The Palm T5 is one of the first devices to use a new memory system based on NAND Flash Memory. NAND Flash is non-volatile which allows the T5 to keep its data, even when the battery is dead. The problem stems from the way the memory gets used and apparently many older programs not designed specifically for the new Palm OS 5 'Garnet' can cause all kinds of stability issues. I hit the Palm website and found that an update was available for the Tungsten T5 which is outlined in more detail below.
Tungsten T5 Update v1.1
The Tungsten T5 Update 1.1 adds enhancements that provide increased stability and reliability, as well as improved memory management on your handheld.
visit the page Here
New in version 1.1
Resolves problems caused when synchronizing large databases and files
Fixes problems in the Calendar relating to Birthdays or recurring notes
Fixes an issue with the Find feature and Calculator application
Provides non-volatile file system improvements
Fixes a problem in the Calendar that can cause a crash when the default view is changed from Agenda to Month View
Fixes an issue in Contacts when using the Menu drop down list for new entries
Adjusts the Palm OS soft keyboard to prevent system instability in certain situations
I applied the new Firmware Update and saw a great improvement in the stability of the T5 but it still acted up, at times a program would take a long time to load or it would look like the system had locked up. NAND memory is used the same way as a hard-disk or memory card, it gets read in blocks so to run a program the program must first be paged or copied into another type of memory-mapped RAM and then executed. For this reason, the T5 uses a combination of NOR and NAND memories, where a smaller NOR memory is used as software ROM and a larger NAND memory is partitioned with a file system for use as a random access storage area. Basically virtual memory strategies are used to get everything to work and just like the old days of Windows Hard-drive 'swap' files it can slow the system down when under heavy memory loads.
The photo on the left shows the options that are displayed on the side of the T5's screen.

Memory Boost

I was recently fooling around with a program called SCUMM which allows a Palm user to play a slew of older Lucas-Arts PC based games such as Monkey Island, Sam & Max and my favorite Day of the Tentacle. (you can get the newest build of SCUMM for the Palm Here) well in order to play some of the larger more complicated games users had resorted to using a program called UDMH or Unlimited Dynamic Memory Hack, it replaces the default virtual memory manager and myself and others have found the T5 to be more stable with UDMH installed. If you use NAND based Palm you need to download and install the free trial version (expires in 7 days purchase cost is $9.95).

For those of you who may wish to Try SCUMM please note while setting your games up you must remember to use the exact proper name under the 'Game' section or the SCUMM emulation will fail, it took me a while to figure out why sometimes 'Day of the Tentacle' would load and after trying a new version of SCUMM it would fail. I would leave the 'Game' label blank or I'd use 'dott' SCUMM needs to know which game emulation to use and the correct 'Game' to use in this case is 'tentacle'. You can refer to the 'game short name' in the compatibilty list Here.
Widescreen 480x320 Video
I attempted to play some videos on the T5 and I used Kinoma MPEG-4 encoding software to convert the videos to a format that was supported by the matching Kinoma Player 3 EX but I fought with the software trying to get a decent birate to playback in widescreen (wide format instead of the regular portrait) I was about to give up in frustration but I found a forum on the internet where someone mentioned that rotating the video for widescreen playback was very CPU intensive. I then thought Ok lets pre-rotate the video to solve the problem another forum had a complicated procedure to accomplish the rotation and I was not about to spend that much time on a video clip when I found the solution a simple freeware program called Pocket DivX Encoder this program allowed for encoding to the rotation needed by the T5. I should mention the development of this program has stopped has the author has moved on to a partnership with Omniquiti and they have produced an updated, re-optimized version that adds support the Sony PSP, iPod Video, Nokia and Treo mobile phones called Omniquiti Lathe. Now we're not quite done as you'll also need another freeware program called The Core Pocket Media Player or TCPMP actually this is one of those must-have applications as the playback capabilities offered and codec support is not matched by any other program.
With the help of these two programs I am able to enjoy full rotated widescreen video at 480 x 320 in fact I use these setting during encoding
Size: 480 x 320
Video: .MP4 1340kbps at 24fps
Audio: .MP3 stereo 44100Hz at 128kbps
The resulting Video playback is flawless with no dropped frames in fact using the benchmark found in TCMP I could even increase the settings. I have to mention a friend has the Sony PSP and my video playback blows his away but I need to mention it's partly due to restrictions in place by Sony on maximum resolution allowed to used for playback. I encoded Spiderman 2 as it was available as an UMD disk on the PSP to compare the two devices and except for a smidge larger overall screen on the PSP the T5 with the higher overall resolution made for a tough call on which was better I think the T5 wins but the PSP guy preferred the PSP (go figure).
The T5 uses a fairly standard layout scheme for it's buttons and they felt right during use, not to hard to push but not to soft the speaker located on the rear was more than adequate for most uses but I highly recommend you use the headphone jack to enjoy the full audio enjoyment the T5 can produce for Mp3's and Video's encoded with a good stereo soundtrack. For those of you expecting a cradle well cradles seem to have been on the let's save some money list as none of the new Palm models appears to come with a cradle, of course they can be purchased as an accessory for those who really want one.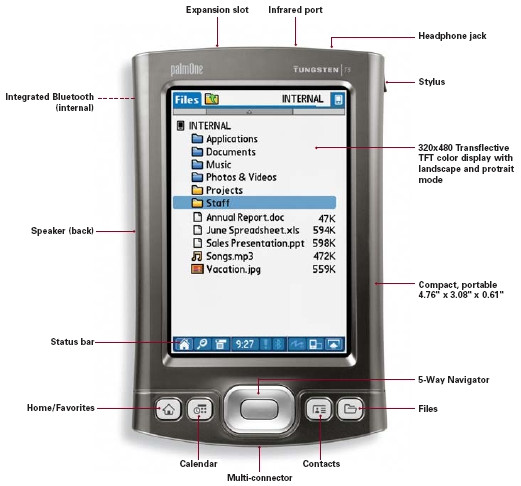 Final Words
After the installing the firmware update 1.1 and UDMH I can say that this Palm is now rock stable and I can view 480 x 320 video and photo's. Every game and application I have installed runs great as the 416 Mhz processor is fast and with the memory issue fixed the T5 is a true modern wonder.
One feature I find really handy is the USB Flash Drive which is a small app that when launched allows the T5 to be seen as a regular USB flash drive for both the internal T5 memory (160Mb) and the 2GB external SD Card, this means any file can be moved with ease. I just wish it supported the faster USB 2 spec but you can't have it all.
I do have a few minor gripes such as the lack of a charge indicator I mean a simple LED that showed if the unit was on or charging would have been an easy inclusion. Powering on the device to check if it's charging is just bad design. A user replaceable battery should be standard on all devices, why do we allow manufactures to continue the 'sent it back or throw it' out trend! When the battery starts to give us issues it usually means we end up in the throwing the device out as the cost of fixing it is prohibitive. Making a cover and simple connection system can't add that much cost to the device so even though iPod, Palm and others continue to torment us, Creative is one company listening and has user replaceable batteries on most of their products.
Bottom Line
The Tungsten T5 is basically a Lifedrive without the 4GB mico hard-drive by simply added a 2GB SD Card you have a Lifedrive with 2GB storage at a fraction of the cost. Install the needed firmware update 1.1 and finish by installing UDMH. You'll have a multimedia device that gives you all the Palm PDA features and Stability with the fastest processor you can buy! You should be set until they release Palm OS 6 'Cobalt', in fact all three of the devices listed in the Comparison chart are great buys as they all share the same TFT LCD screen, NAND technology and Plam OS.
I hope you found this review helpful and informative
biline