SilverStone GD01MX Home Theater PC Case Review
This review is about the SilverStone HTPC case, for those of you who may not be fully briefed on just what a HTPC is or exactly why you would want to build one then please read my recent article called
"A Computer for the Living Room, a look at HTPC's" click Here to read it now.

The photo below should provide you with a good idea of what the SilverStone case looks like and why it's obviously suited as a HTPC case.
Note that all the photos in this review can be clicked to see an enlarged version of the photo.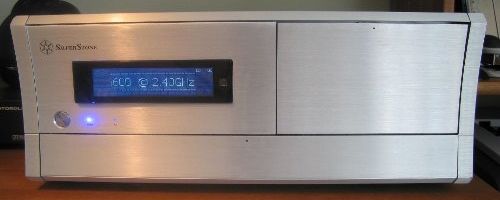 The front panels open to reveal the hidden compartments the first being the Optical compartment which can house two Optical drives of your choice I went with a Pioneer DVD Writer as I plan to watch mainly DVD movies, those of you who wish to go with HD-DVD or Blu-Ray can add the drive easily.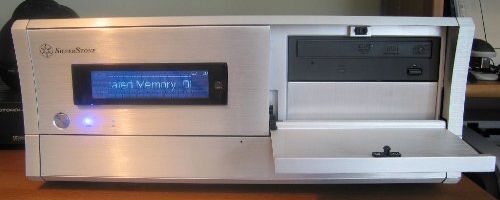 The lower compartment houses the 52-in-1 card reader and other front mounted connections. I will mention the compartments open slowly because of the special geared mechanisms attached to each one so you'll never have to worry about a compartment door falling open with a clang.





Here is a closer view of the reader it supports virtually all the different memory cards currently available as you can see by the full list below.



Smart Media
SM, SSFDC, SM Ram, XD
Compact Flash
CF I, CF II, Hitachi Microdrive,IBM Microdrive, Magicstor, HS-CF, Extreme CF, Extreme III CF, Ultra CF, Ultra II CF, Ultra-X CF
Secure Digital
SD, HS SD, Extreme SD, Extreme III SD, Ultra SD, Ultra II SD, Ultra II SD plus, SD Elite Pro, *Mini-SD, *Micro SD, *T Flash, *C-Flash
Multimedia
MMCI, MMCII, HS MMC, DV-RS-MMC, *MMC Mobile, *RS MMC, *RS MMC Mobile, *HS RS MMC
Memory Stick
MS, MS Magic Gate, MS Pro, MS Pro(MG), Extreme MS Pro, Extreme III MS Pro, HS MS Pro, HS MS MG Pro, MS Select, MS Pro Ultra II, *MS Duo, *MS Duo(MG), *MS Pro Duo, *MS Pro Duo(MG), *HS MS Pro Duo, * HS MS MG Pro Duo, *MS Pro Duo Ultra II, * MS Rom
Now that I have your attention lets start with the specifications as listed on SilverStones website.
Material

Aluminum front panel, 0.8 mm SECC body

Color
Black
Silver
Motherboard
Standard ATX, Micro ATX
Multimedia
Multilanguage LCD. IR
remote control iMON media center software
Model
SST-GD01B-R (black, card reader)
SST-GD01B-MXR (black, multimedia, card reader)
SST-GD01S-R (silver, card reader)
SST-GD01S-MXR (silver, multimedia, card reader)
Drive Bay
External

5.25" x 2


3.5" x 1
lnternal
3.5" x 6
Cooling System
Front

2 x 92mm or 80mm fan slots

Rear
2 x 80mm exhaust fan, 1800rpm, 19dBA
Side
1 x 80mm fan slot
Expansion Slot

7

Front I/O Port


USB2.0 x 2
IEEE1394 x 1
audio x 1
MIC x 1
52-in-1 card reader

Power Supply
Optional standard PS2 (ATX)
Net Weight

7 kg

Dimension
430 mm (W) x 170mm (H) x 430 mm (D)
The case is shipped with Dual 80mm fans with bearing noise cancellation technology and they are surprisingly quiet fans while still audible I could only get a reading of 54db from my sound level meter when it was placed within an inch of the fan.
I should mention that I purchased the case from PC Cyber for $264 (Canadian) and that the case does NOT come with a power supply, you will need to purchase one separately if you decide to use this case. I know that some of you have probably stopped reading any further when you saw the price but to be fair this is an Aluminum front panel case which is highly specialized and produced in much smaller quantities than your usual PC case. When you consider that the LCD and remote are sold for an extra $125 with other HTPC cases then the price is in line when compared to the Thermaltake Mozart VC4000SNS at $147 + $125 LCD kit means it cost $272 for a comparable feature list.

So why is the LCD and remote important?
Well it's not really needed for functionality a wireless keyboard and mouse combo with a decent range will allow you to perform everything the remote will and more. I honestly haven't bothered much with the remote for this reason but the case comes with iMEDIAN software. iMEDIAN allows you access media files like Music, Movie, Photo and use the device like DVD, TV, Digital Camcoder and Digital Camera in your PC. iMEDIAN uses a menu system with large graphics that allow a user to easily see and select files they wish to play, I used it briefly and although I prefer the wireless keyboard and mouse I can see how other users would feel right at home using the iMEDIAN software instead.




The LCD turned out to be quite interesting as it is run through a software package called iMON.
| | |
| --- | --- |
| | |
iMON allows you to scroll information about the file being played or it can act as a graphic equalizer. When no media is playing it actually scrolls information about the system, it can also display the current weather for your area or if you prefer how about all the World news form various sources! The LCD is completely configurable to your needs and can display any language including character types found in Korean, Japanese and Chinese. You can also change the font type, size, or make it bold or italic to suit your taste. The LCD makes the product feel like it's more than just a computer hiding under a fancy case.

Lets see some guts already!
I found two possible issues for users, the layout of the case caused me some issues when I discovered the Optical drive cage was sitting directly on top of my ATX power connector to the motherboard, I had to really bend the cable to get it to fit. The second issue is the way you get power to the LCD it uses a special connector that attach's to the end of your ATX power connector and here is where some users may run into issues. The connector is for the 20 pin ATX connector and recently a new 24 pin ATX connector referred to at ATX v2 is required for some motherboards. I was lucky as I had an older 20 pin ATX header to which I added the LCD power connector, then I used a 20pin to 24pin ATX v2 adapter to connect to my motherboard.
| | |
| --- | --- |
| This is the Optical drive cage that was cause for some concern when my motherboards ATX connector wound up sitting right under it. | The hard-drives are mounted sideways in the cage you'll notice the fan cut-outs that accommodate either 80mm or the larger 92mm fans |
| You may notice a fan is missing, I decided to move the fan in front of the HD cage to help cool the HD's as they seem generate a fair amount of heat | One of the selling features for me was the lack of obvious cooling grills or top mounted cooling fans that some of the other cases featured. |
I had originally mounted the power supply as shown in the picture above which draws cool air from the side grill and expels it through the rear but I found the fan noisy, so I rotated the power supply so the fan was now drawing air from within the case. I did find the expelled air warmer than the original configuration but the fan noise is no longer an issue. I decided to use a Zalman VF900-Cu fan for the Video GPU and a Zalman CNPS7700-Cu for the main CPU, the fully adjustable fan speed and Copper fin design allow for very low noise from these cooling areas. I will not say the system is silent but the noise has been minimized to a point that you don't hear the system as you move more than a few feet away.

Final Words
Other than the issues I mentioned the only other issue was the installation manual, I found it to be confusing and it seemed to contain only enough detail to cover what I already knew so suffice to say if you have no experience with installation the manual will probably not provide you with much help. Although the SilverStone case is pricey it is what it is, a solidly built HTPC case that was well designed and thought out for use as a HTPC. It has room for a considerable amount of HD's and although the vibration mount is perhaps not the best design it does reduce the vibration and still allows for up to 7 HD's to be used. I will mention that the LCD is hard to see at certain angles but is bright and easy to read. If you are looking for a HTPC case and you are attracted to the "retro Amplifier look", than I doubt you will be disappointed by the SilverStone GD01MX!

The photo below shows my current HTPC configuration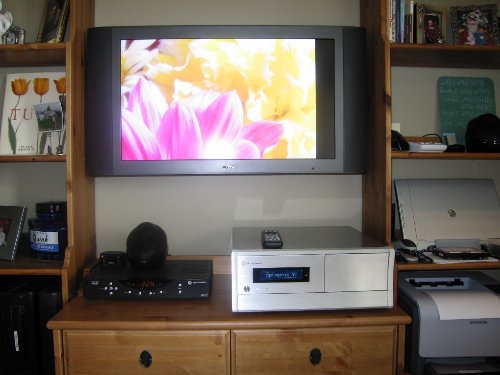 Most of the items in the above photo have been reviewed so here is a full list in case you wish to read further about any items of interest.