AVerMedia AVerTV Hybrid Volar MAX USB Stick Review
| | |
| --- | --- |
| | So we have a very long name for a product that displays Television signals on you PC, but this little stick offers a few goodies up it's sleeve and the biggest one is ATSC support. Before this article gets really long you should read this article Here. Those who want the short and quick version here goes. ATSC is basically High definition 1080i Digital television signals sent through the air like a FM station. This new digital feed is far superior to cable and satellite TV as it has little to no compression and the picture quality is breath taking. The other important point is that this product also supports something called 'Clear QAM' which is essentially support for Unencrypted Digital Cable channels that are available through your regular cable television supplier. Did I mention it also supports Digital radio stations along with the older FM stations and to a lesser degree analog signals. I say to a lesser degree as I found the quality of the analog part of this device to be rather poor when compared to the Digital output, but more on this later. |
Now that I have your attention lets have a look at the specifications according to AVerMedia
NTSC Analog TV
ATSC Digital TV
Clear QAM support (Digital Cable)
High Definition (HDTV) quality support up to 1080i
32/64-Bit driver support
Windows 7 / Vista / XP/ fully compliant by S/W encoder
Windows Vista Premium logo Certificated
USB 2.0 Interface
Stereo Sound
Real-time H.264 recording support
Multi-card support
The Package include the following items
AVerTV Hybrid Volar MAX (Net Weight: 25 g)
High Gain Antenna
Quick Installation Guide
Installation CD
USB Cable
Carrying Bag
S-Video/Composite 2 in 1 Cable

| | |
| --- | --- |
| | This is the rather small but surprisingly good High Gain Antenna that is included with the AVerTV, in fact I actually purchased and returned no less than four different models of indoor antenna's that did not perform any better than the one included with the AVerTV package. The models I tried ranged from large flat style antenna's to weird tri-fold models and one that had a booster and rather ordinary old style rabbit ears. All of them were much larger and could not be easily attached to your laptop lid as easy as this one with the included clip. |
The drivers and software loaded with no issues on my Windows 7, 64 bit system. I was up and running and the software wizard was prompting me to scan for analog and digital signals. I completed the scanning and found five digital channels, now the amount of digital content you pull in is really dependant on your area. I did find a really useful tool that allows you to pinpoint signals within your area to better judge what is available it's called TV Fool and I suggest you have a look at what's in your area before rushing out and getting one of these or you might be disappointed with the the selection of digital channels. I lucked out and had no digital radio stations but the usual FM stations were found with no issues. the Analog portion worked fine and I managed to pull in 20 or so stations but the quality is rather bad, also as of August 31, 2011 in Canada they won't even be available so who cares.
The AVerTV uses a 'Media-Center' type of program to manage the playback,recording and viewing of content with the device and is simple to use and navigate. I have no issues with it except for a bug, (at least on my system) when I use any other playback device at the same time I loose the audio within the AVerTV application and I have to close and restart it to get my audio back. I should note the AVerTV supports Windows Media Center Editions but I have not tried it out for compatibility.
PVR Functionality
The AVerTV supports TimeShift as well as recording and does so using MPEG-2 or H.264 the big difference being tied to available processing power available. MPEG-2 needs a fairly slow Pentium 4 2.6GHz but using H.264 bumps the demands to a minimum of a Pentium 4 3.0GHz with HT (Hyper-Threading). All of the PVR features worked fine but keep in mind recording a 1080i signal even with H.264 compression is going to eat up a big chunk of disk space. I should mention the AVerTV also supports input from analog device such as a PlayStation3, Xbox 360, DVD/VHS players, camcorders or other game consoles. I tried using a composite signal out from my cable box and I was not impressed with the result and would not recommend it if any other option is available, but it's there if needed.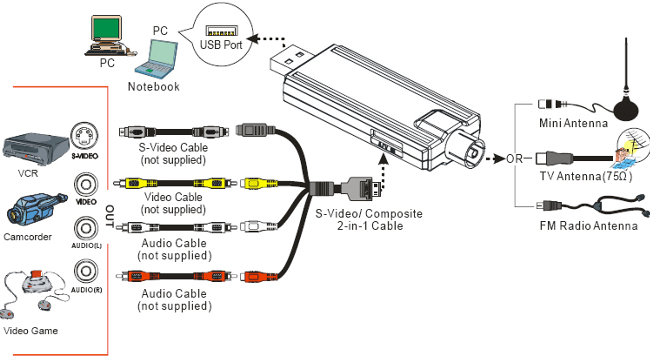 HDTV at 1080i
I don't know what to say here other than WOW I still can't believe an over the air signal can achieve 1080i which is an 1920 X 1080 image and through a USB port no less, Amazing really considering the amount of data needed. I have had almost no issues with sputtering, pausing or other artifacts as long as the signal is above 75%, oh and if you enable the OSD (On Screen Display) it will tell you the signal format and signal strength.
Clear QAM
Well I only managed to find the same stations that I was already getting over the air unencrypted so this function did not mean much to me when using it with Rogers in my area but I suspect most cable companies are going to encrypt any content that you should be paying for in their eyes anyway. I did notice that the music channels offered by Rogers were not encrypted so you just might get enough use out of these channels to leave it hooked up just for this option.
Final words
Well I can't compare this device to others except perhaps in the cost area and I just noticed I never mentioned the price or where I obtained mine. I walked in my local Staples and found it on the shelf for $79.96 I have compared similar products from Hauppauge specifically the WinTV-HVR-950Q which is around $100 but it does come with a remote and the AVerTV offers it only as an upgrade option so if a remote is a big deal for you may want to pass on the AverTV. That being said the product works as advertised, the software is decent and the digital signals captured by the included antenna are perfect so if you need a mobile solution then I don't think you can do any better than the AVerTV.