Xbox 5.1 Digital Surround Sound System Review or simply the best 5.1 Home Theatre system in a box ever reviewed?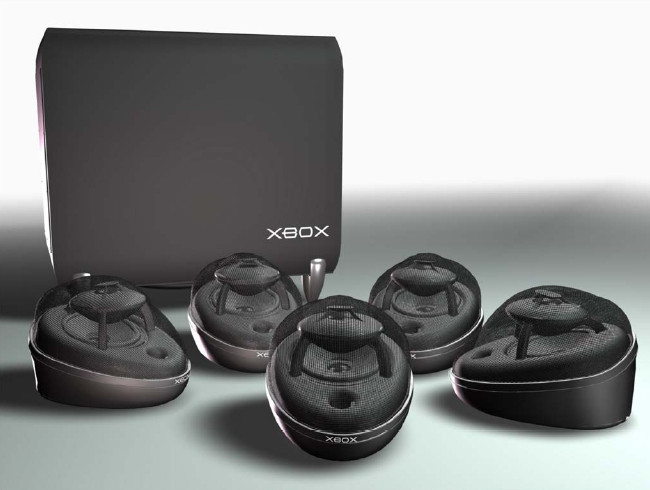 Lets breakdown the key important reasons why this 5.1 system should be on everyone's shopping list the list below is a table of contents for this article clicking on a subject will allow you to jump to that section
Introduction
As the title of this article suggests Xbox 5.1 Digital Surround Sound System Review or simply the best 5.1 Home Theatre system in a box ever reviewed? I think this system is the best kept secret of Home Theatre, the Xbox logo on this system betrays it's true calling and I think a problem with its target market. As you read through the information I will be presenting I think you will agree with the above statement although this probably is the Ultimate Xbox 5.1 speaker system as well.
Audio Products International Corporation
API is the Canadian company behind world-famous speakers from Energy, Mirage, athena TECHNOLOGIES, Energy Pro, Sound Dynamics and Spherex Inc. Founded in 1972 API has become one of the ten largest speaker manufacturers in the world. Their 165,000 square foot facility in Toronto, Canada, is one of the most advanced in the industry. A 110,000 square foot building includes the offices, research and development, and speaker manufacturing departments, and a 55,000 square foot building is used to warehouse the finished goods.



Ian Paisley is the VP of Engineering and API in 1978 forms an alliance with the Canadian National Research Council (NRC) to study loudspeaker acoustics and how they affect personal preferences. This lead to the Energy 22, which receives the highest test scores to date in NRC blind-listening tests and it becomes the Category "C" Reference Speaker for the Canadian Broadcasting Corporation in 1982. Then in 1996 Mirage Introduces OMNIPOLAR Technology, this is the first speaker with the same direct to reflected sound ratio as a live musical event. In 2002 OMNIGUIDE technology is developed by Mirage's Chief Designer, Andrew Welker and is launched with great acclaim in the OMNISAT lifestyle, satellite speaker system. The OMNISAT highly innovative arrangement of tweeter, woofer and reflective discs produces full OMNIPOLAR sound with its renowned and natural 360° soundfield.
So as you well imagine the technology behind the Xbox 5.1 system is probably not just thrown together in fact the OMNIPOLAR technology created by MIrage is borrowed by the Xbox 5.1 system!
Technology proven at the NRC in Canada
The National Research Council (NRC) is the Government of Canada's premier organization for research and development. We have been active since 1916 mainly to advise the government. Then, in the early 1930s, laboratories were built in Ottawa. NRC grew rapidly during World War II, then played a major role during the explosion of basic and applied science and engineering research between 1945-65. NRC personnel invented the artificial pacemaker, developed canola (rapeseed) (1940s), the Crash Position Indicator (1950s) and the Cesium Beam atomic clock (1960s).
| | | |
| --- | --- | --- |
| | | More recently, the NRC has been highly influential in the field of audio. A great deal of research at the NRC has gone into the designs of many popular speakers from Canadian speaker manufacturers like Energy Loudspeakers and Paradigm Electronics, and their research has influenced speaker designs around the world. Pictured left is the Anechoic Chamber (literally, a room with no echoes) at the National Research Council of Canada in Ottawa, Ontario. an Anechoic Chamber is no ordinary room as lining all six walls of the chamber are large fiberglass wedges that absorb all reflections from the loudspeaker. This is where the initial design and frequency response are measured and tested, you may be thinking why a room with no echoes, simple this allows for very precise measurements of what the speaker alone sounds like before any sound waves can be changed by room reflections. |
Dr. Floyd Toole, a Canadian physicist and psycho-acoustician who received his PhD in England in stereo localization, and continued his experiments at the National Research Council beginning in the 1970s. In his search for an accurate speaker with which to conduct his experiments, he discovered wild inconsistencies in speaker design and measurement, and an absence of controlled scientific research. Since he was already an audiophile, Toole invited several young Canadian speaker designers to work with him in evolving new speaker measurements and listening tests as part of the NRC's mandate was to assist Canadian firms in product development. you can read more about the NRC and Mirage Here
Mirage Omnipolar speaker design
I will try and summarize this technology but if you wish to read the full article from the Mirage website click Here.
| | | |
| --- | --- | --- |
| | | Research proved that in a live musical environment, approximately 30% of what we hear is direct sound while 70% is reflected from walls, ceilings and floors and only reaches our ears a few milliseconds after the direct sound. The human brain uses direct sound for identification and to calculate location, but uses reflected sound to determine musicality and spaciousness, as well as direction. If this reflected sound arrives at our ears with inadequate high frequency content then the reproduced music is identified by the brain as artificial. Ian recognized that a speaker capable of recreating the correct direct to reflected ratio would therefore reproduce sound with far greater realism and faithfulness to the original instrument and environment. |
After nearly 2 years or research and design Mirage eventually came up with a solution. The OMNIGUIDE, a saucer shaped deflector, that when suspended over the midrange and tweeter produced the same dispersion pattern (30/70) This patented solution also proved to be fully scalable, thus opening up the opportunity for all music and movie lovers to experience OMNIPOLAR sound and Its enormous soundstage makes Omnipolar ideal for music or home theater applications.
Lets look at some of the tech behind the Xbox 5.1 system



Lets start with G.A.N.G.
The Game Audio Network Guild (GANG) is a non-profit organization established to educate the masses in regards to interactive audio by providing information, instruction, resources, guidance and enlightenment not only to its members, but to content providers and listeners throughout the world. GANG has awarded the Xbox 5.1 it's Winner of the BEST AUDIO HARDWARE for the Xbox and many game developers such as Fasa Studios- Microsoft Game Studios (MechAssault 2), Forza Motorsport and Bungie Studios (Halo) a few more names include Black Ops Studios, Relic Entertainment and BioWare (Jade Empire).
Obviously with support from heavy hitters in the industry as the ones mentioned above the Xbox 5.1 must be an impressive product.
Direct Digital Amplification from Apogee DDX
| | | |
| --- | --- | --- |
| | | DDX converts digital audio directly into power without the need of a digital to analog converter (DAC). Embedded signal processing is used to convert digital data into Apogee's patented damped ternary modulation to directly control power-switching devices. The output is filtered to remove high frequency to produce the audio signal for speakers. This approach allows digital audio sources such as CDs, DVDs, DTVs to remain digital from source to the speakers, eliminating analog signal corruption. The Chart compares Class 'D' Amplifiers and regular 'Analog' Amplifiers to DDX. |
In a nutshell DDX allows for greater efficiency which translates to more power with less heat generated and very low distortion, what more could you ask for in an Amplifier!
Waves MaxxBass
MaxxBass is a Waves patented audio technology that dramatically extends the bass frequency response of a loudspeaker system. The Xbox 5.1 utilizes a six channel MaxxBass implementation to enable both extended subwoofer frequency response as well as mid-bass frequencies on the satellite
channels lacking in other home theater systems. The Spherex Xbox 5.1 system subwoofer uses a custom 8 inch, 100 Watt rms system. This typeof driver typically plays down to 50 or 60Hz, which is common in home theater systems. However, with MaxxBass processing on the Xbox 5.1 system subwoofer, it can reproduce frequencies down to 25Hz, providing much deeper, richer and more emotionally powerful sound during game play and action movies. Producing this type of frequency response normally requires a 12 or 15 inch driver with much more power.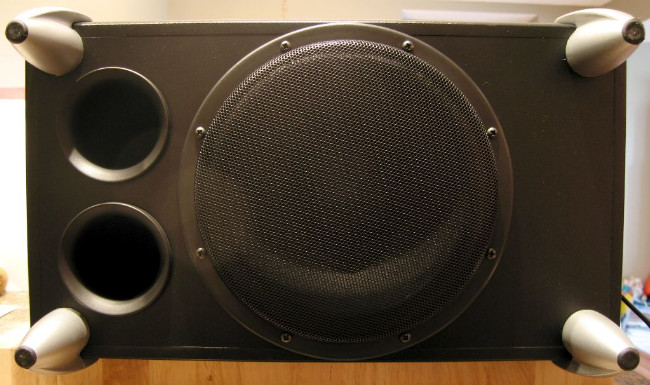 MaxxBass is not a bass boost technology, but instead uses a Waves patented psychoacoustic
algorithm to allow you to hear bass far below the physical limitation of the speakers by taking
advantage of the latest research in how sound is perceived. MaxxBass allows you to hear
frequencies up to 1.5 octaves below what is generated. This enables subwoofers to generate
much lower frequencies, allowing them to dramatically shrink in size.
Aureus Digital Signal Processor from Texas Instruments
Aureus audio DSPs represent the highest quality audio processing possible to satisfy even the most discerning consumer, and support the latest and most innovative audio processing features to enrich the audio listening experience. The award-winning, high-performance Aureus DSP's are ideal for applications that require multi-channel audio decoding and post processing. In the case of the Xbox 5.1 system it allows for Dolby Digital and Dolbly Prologic II (Pro-Logic II is the latest improvement on the original Pro-Logic standard) playback. It also includes support for DTS and if that isn't enough when a new technology emerges Spherex can release an update that you can install via the included USB port from your PC and viola updated firmware!
W3 Solutions - gimmie a 10 warranty please!
W3 solutions offers 'Complete Product Guard' (CPG) which basically is a pre-purchased Extended Service Plan designed to cover virtually any electronic device sold in consumer markets in North America, it offers 100% Parts & Labour Coverage for a period of 10 years on the Spherex Xbox 5.1 system. You will need your proof of purchase and you must register your system with W3 which can be done via the included mail-in card or through the Spherex site Here remember this is a unprecedented 10-year warranty with a third party which means even if Spherex (heaven forbid) disappears you will still have your warranty!
System Specifications and Photos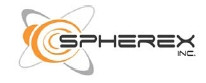 Signal Input Connections
The Xbox 5.1 Surround Sound System has five audio inputs: two Toslink optical digital, one coaxial digital, one stereo analog and one USB 1.1 Device Port (USB Streaming Capability through a future software update). Use these inputs to connect audio sources, such as Xbox, DVD player, CD player, portable media player, computer sound card, or TV set. When feasible, use a digital input to allow for Dolby Digital and DTS playback.
AUDIO section
FRONT (135 Hz ~ 20 kHz, 0.3 % T.H.D. at one channel driven) 55W + 55 W
SUBWOOFER (40 Hz ~ 114 Hz, 1.5 % T.H.D. at one channel driven) 102W
Effective power output during SURROUND operation*

FRONT (110 Hz ~ 20 kHz, 0.3 % T.H.D. at one channel driven) 55W + 55 W
CENTER (110 Hz ~ 20 kHz, 0.3 % T.H.D. at one channel driven) 55 W
SURROUND (140 Hz ~ 20 kHz, 0.3% T.H.D. at one channel driven) 16 W + 16 W
SUBWOOFER (40 Hz ~ 114 Hz, 1.5 % T.H.D. at one channel driven) 102 W

*Please note that MaxxBass processing will psycho-acoustically extend perceived low frequency response.
DIGITAL AUDIO section
Sampling frequency 32 kHz, 44.1 kHz, 48 kHz
Input level / impedance / wave length

Optical (-15 dBm ~ -24 dBm), 700 nm ±30 nm
Coaxial 0.5 Vp-p / 75 ohm
GENERAL
Power consumption Xbox 5.1 3.5 A
Xbox 5.1 420 W
Standby Power consumption less than 60W
DIMENSIONS
Satellites:
HxLxW: 5-1/2" x 6-1/2" x 3-1/4"
14 x 16.5 x 8.3cm
Weight: 2-1/2 lbs. / 1.1 kg

Subwoofer:
HxLxW: 16" x 9-1/4" x 16"
40.6 x 23.5 x 40.6cm
Weight: 28 lbs. / 12.7 kg

Click on any of the photos below to enlarge.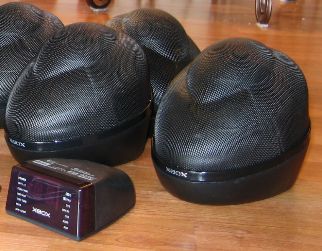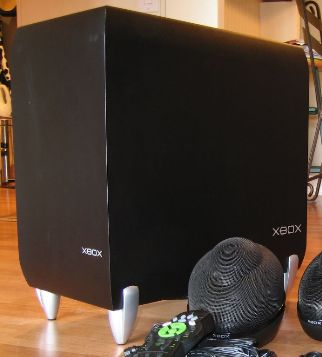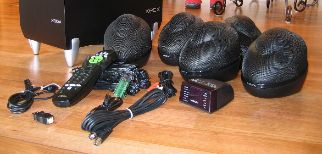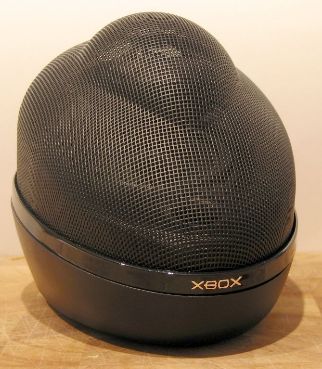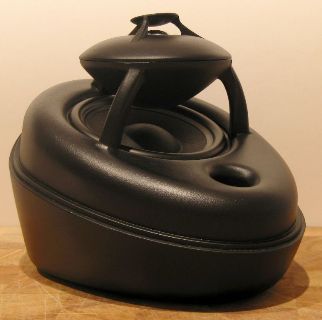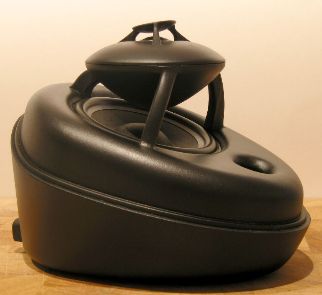 Final Words
The Spherex 5.1 system I received was an on-line order which I placed directly from the www.spherexinc.com website I ended up purchasing online as for some strange reason the stores which were carrying this item have suddenly stopped stocking it, this could be due to slow sales or some kind of distribution change as Futureshop for example was bought by Bestbuy so it's possible these type of changes have relegated this product to be temporarily in limbo from the more obvious retailers. I purchased them for a mere $319.99 plus a shipping charge of $29.99 plus the required taxes brought the total to $402.44 I did run into a little hitch as I was sent an e-mail from API that stated the online fulfillment was supposed to be removed from the Spherex site and in order to process the order I would need to fill out the attached credit card authorization form and Fax/e-mail the completed form back to API, after I completed this minor step the system was shipped and I received it practically the next day!

Set-up was a non-issue all the speaker wires were included 3x10ft and 2x32ft interestingly the wires are terminated to RCA type plugs which makes mixing up polarity impossible which is good but if a longer length is needed could cause some issues especially for those wanting to upgrade to Monster Cable wire (that was a joke) The wire supplied is 20 gauge which most audiophiles would consider a joke but Impedance is the real issue and any signal lost would be likely in the extreme lower frequencies which the Satellites don't touch anyway, so there 20 gauge is fine...

The sub-woofer is fairly massive and heavy (32lbs) I imagine housing the required amplification and other goodies increases the size and weight fairly substantially, the sub has a carrying handle which comes in handy and I noticed by the old 'rap' test that the sub was solidly made (lots of wood in Canada helps) I'm not typically impressed with downwards firing designs as i find them rather muddy but I was prepared to be impressed by the MaxxBass technology.

The included IR Remote Control was clearly labeled and using the test function with my trusty sound level meter was surprised to find that almost no adjustment was needed as the only culprit was the left rear surround and I suspect being placed near a corner caused more sound to be reflected than with the others. I admit I only used the remote for a short period before adding it my Harmony Remote and quickly lost track of where I put the original. I suppose I could whine that certain DVD features for playback on the Xbox weren't included but the reason you purchase the DVD Playback kit is mostly due to licensing issues with DVD playback and royalties that needed to be paid before it can be enabled on the Xbox hence the 'Dongle'.

I have yet to find any issues the system is simplicity defined in use and operation, the only concerns I have are based on the literature that states ''USB Streaming Capability through a future software update'' these have been out more than long enough that this feature should be available by now. I noticed as well an expansion port is located on the back of the sub-woofer and again this brings hope that some new feature will be added. I have mixed emotions as it's future proof as long as the developer doesn't abandon the product development.
Bottom Line
So now that you know everything about the technology and the significant resources behind Spherex's Xbox 5.1 system you probably are wondering how it sounds. One word "Amazing" No 5.1 surround system I'm aware of can touch this package it has been so thoroughly thought out and put together with the best available technology in every corner I can't believe I purchased it for $320 I have decided to replace my surround system with the Spherex 5.1 system and with my new investment in a 32" HDTV from Proview I can ditch the large Yamaha amplifier I was using and replace some fairly large speakers with much smaller and better sounding ones. I also have a couple of yards of wires that I no longer seem to need as a byproduct of the upgrade. I hope that you don't expect a silly rating at this point just out and buy them you won't be disappointed.
Opps.... almost forgot this system rates very high on the 'Wife" approval scale!
Update June 4th 2007
Looks like someone with vastly superior experience in speaker reviews has been rather astounded by the Spherex 5.1 and it's none other then the highly regarded Peter Aczel from The Audio Critic, please have a read by clicking Here.
I hope you found this review helpful and informative
biline