100'' Screen and 2000 watts
Because we had no money we were always looking for a good bargain, or as we like to put it 'the best bank for your buck'. When we started our search for components AC3 was just out in the market and very 'Hot'. I was using 3 QSC amplifiers hooked up to a NAD Pro-logic decoder and wanted to upgrade to AC3 (Dolby Digital). After numerous calls we found a place called Stereo Plus that had a AC3 decoder made by Yamaha for $400 this sounded great so down we went only to find out the salesman was incorrect, it was a Pro-logic decoder not an AC3 decoder. After my initial disappointment the manger offered us a Yamaha amplifier with AC3 decoding, this amplifier also had the ability to drive external amplifiers with a 'pre-amp out' function, the problem was it was $1,300 (more than I had to spend). After some calculations he agreed to sell the 'Open Box' to me for $700. After setting it up I decided to try a comparison between my QSC amps rated at over 185 watts per channel and the Yamaha amp rated at a 85 watts per channel. After extensive listening I concluded that I couldn't notice any real noticeable difference and decided to sell the QSC amps, I sold the pair of QSC 370's to my friend for $800.
About a month later we found an amazing deal on the Technics SH-AC300 decoder at the now defunct Wackid Radio for $200, we of course picked a unit up.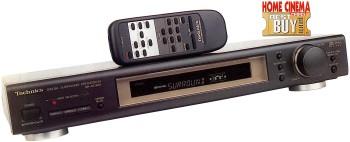 During this time I had been playing around with various Speaker designs my friend happily purchased a set of six biline speakers for the cost of material which at the time was around $1000.
I had played around with various subwoofer designs and my friend was happy to purchase a few of them, one of them used a 10'' dual voice coil driver ($100) the other was one of my Isobaric systems that used dual 12'' Max pent-a-vent drivers ($250) I've made quite a few of these and I'm currently using one to compliment my car audio system.
A Panasonic DVD player with progressive scan was purchased for $150.
The last item purchased was another QSC amplifier (1700 watts) which I had been using to power a 15" dual-voice coil driver which was fitted into a large enclosure (24''x48'') The enclosure was built into a closet in the basement. When we sold our home my wife noted that it would be to large to bring into the new house. I made a deal with my friend if he removed the Sub-woofer it was his along with the last QSC amplifier for $700.
The entire system now consists of 6 speakers, 3 sub-woofers, 3 QSC amplifiers (2,500 watts), a Panasonic DVD player and finally the Technics AC3 decoder which rounds out the audio section.

For the video section we wanted a projector and after reading many reviews on LCD and DLP projectors we ending up purchasing the Infocus X1 DLP Projector after including the cost of the ceiling mount we spent $1500.

Total spent up to this point is $4,500.