LG LDA-731 Upconverting HDMI DVD Player Review

So what does the LG LDA-371 bring to the table and why should we bother buying this unit over another one? Interestingly enough this model appears to be only available in Canada.

I have quite a bit of information for you to wade through so I'm including this handy table of contents to help you jump directly to a section.
Up-Conversion
Up-Conversion refers to taking the input source which will be 480i (480 lines of resolution interlaced) and converting it to a Progressive source at the selected resolution of 480p, 720p or all the way back to an interlaced signal at 1080i. The process is similar to enlarging a photo beyond its size by 2 or 3 times than applying certain filters to try and fix the artifacts created when the enlargement process was done. Now imagine doing this at 24fps and you have an up-converting DVD Player. Now something that was pointed out to me recently is that this DVD Player is one of the few that will do the Up-Conversion over the Component cables as well as the HDMI connector. I did test both connections and I can confirm that it works well enough that I had to pause the source and switch back and forth over a few scenes in order to determine if HDMI was actually better than the output from the Component cables. After straining my eyes and confirmation from my wife I can say that the colours over HDMI were slightly brighter. Considering it took over five minutes to decide HDMI was better you can rest assured if you are stuck with the component out you won't be missing much.
Zoran's Vaddis 8 chipset

In the world of DVD players the chipset pretty well determines how each DVD player will perform as those with the same chipset should within reason look the same and support nearly identical features if implemented by the manufacturers the main chipset's are the Zoran, ESS, LSI, MediaTek, Sigma, AMLogic, and Faroudja. Some manufacturer specific chipsets developed in-house these are made by Sony, Phillips and NEC. So which is the best, it depends as they keep making newer chipsets with new features and revisions. Another issue is that some chipsets will perform better at some tasks but worse in others or a chip my be missing key features the others support. The LG LDA-371 uses the newest chipset on the block which is revision 8 of the Vaddis chipset from Zoran
| | |
| --- | --- |
| | Vaddis 8 is an advanced DVD multimedia processor with an integrated state-of-the-art 8 channel Class D modulator which enables a new generation of DVD players featuring universal audio (DVD-A and SACD2.0). The Vaddis 8 processor enables HDTV connectivity via HDMI and analog component HD-video with six 14-bit 165Mhz video DACs. It also offers SD-to-HD upconversion enabling HD content from standard DVD discs. The HD-JPEG feature enables display of high definition JPEG images. Support for DivX, XviD, MPEG-4, and Nero playback with a unified shared memory architecture controlled by a single internal CPU allowing for de-blocking and de-ringing which maximizes video quality by reducing artifacts in low bit rate streams. |
Vaddis 8 supports DVD-Audio including decryption, decoding, and audio post processing functions. This processor performs CPPM decryption, Meridian Lossless Packing (MLP), LPCM decoding, and bass management. The full fidelity offered by DVD-Audio is available with the use of 192kHz/24-bit audio DACs. Vaddis 8 supports the new SACD2.0 including playback of HD-JPEG content, and is backward compatible with SACD1.3 or lower.

Vaddis 8 utilizes hardware accelerators for maximum MPEG4 performance, playing streams of up to 10 Mbits per second at full D1 resolution and 720x480 @ 30 frames per second. With support for Quarter PEL (QPEL) and Global Motion Compensation (GMC), it provides full compatibility with high-resolution streams.

This block diagram shows the features and path to other components in a typical DVD payer.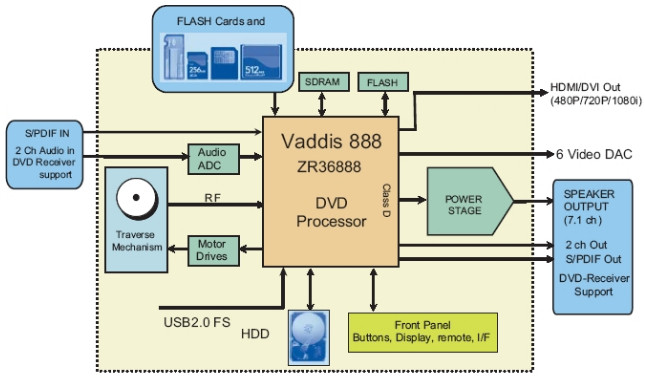 Single Pixel Processing (SPP) Progressive Scan
Zoran's proprietary progressive scan technology enables exceptional video quality for viewing on a progressive scan television. SPP enables pixel-by-pixel processing of the video, while the Vaddis 8 applies high quality deinterlacing to all areas of the scene, including areas with limited or fast motion. In addition to four 10-bit 54 MHz DAC outputs, the Vaddis 8 supports progressive digital video output.

DIVX or Xvid what exactly is it and why do we care?

DivX is the brand name of the world's most popular video compression technology. At its core, DivX is a codec (short for compression/decompression) DivX video compression is so efficient you can fit the entire contents of a DVD on a regular data CD with virtually no loss in quality.

XviD is an ISO MPEG-4 compliant video codec, so designed to compress/decompress digital video. It's a open source project, which is developed and maintained by a handful of skilled and interested engineers from all over the world.
XviD is basically DivX but the open source noncommercial version.

QPEL means Quarter pixel (often also called as q-pel or qpel) refers to a quarter of a standard pixel.

GMC means Global Motion Compensation which improves scenes with lots of motion. Having support for 1 and 3 warp-point GMC is apparently a BIG deal and the LG LDA-371 supports it.

BVOP refers to a B-Frame or Bidirectional frame, which improves quality.
I downloaded the DivX Test CD Version 2.0 from divxtest.com the purpose of the CD is to test your player for compatibilty, the videos have been encoded in a number of video and audio formats with files to test the most common types of pictures and subtitles.
Here is a list of the tests and categories which worked on the LG LDA-371
Click Here to download the test instructions in .pdf format

Audio/Image Tests
AUD-1A MP3 simple test (mp3 2.0 48KHz 96Kbps CBR)

Passed

AUD-1B MP3 VBR test (mp3 2.0 48KHz 96Kbps VBR)

Passed

AUD-1C MP3 pro test (SBR) (mp3 pro 2.0 48KHz 96Kbps CBR

Passed

AUD-1D MP3 multichanel test (mp3 5.1 48KHz 192Kbps CBR)

Passed

OPT-2B Max viewable Character length in filenames

27 Characters

IMG-01 JPG 2 Megapixels files

Passed

IMG-02 JPG 6 Megapixels files

Passed

Video Tests
VID-1A VCD MPEG1 1150 Kbps + MP2 224 Kbps

Passed

VID-1B SVCD MPEG2 VBR ~1350 Kbps (max 2520 Kbps) + MP2 224 Kbps)

Passed

VID-1C KVCD MPEG2 VBR ~1550 Kbps (max 9800 Kbps) + MP2 224 Kbps)

Passed

VID-2A DivX 3 + MP3 CBR

Passed

VID-2B DivX3 Bitrate Crash Test (750/1500/3000/6000) 3000-Passed
6000 played but stuttered on some scenes while others seemed OK
VID-3A MPEG4 ASP 4CC DivX + MP3 CBR

Passed

VID-3B MPEG4 ASP 4CC XviD + MP3 CBR

Passed

VID-3C MPEG4 ASP multi-bframe without packed bitstream (0/1/3)

3-Passed

VID-3D MPEG4 ASP multi-bframe with packed bitstream (0/1/3)

3-Passed

VID-3E MPEG4 ASP Custom Matrix + MP3 CBR

Passed

VID-3F MPEG4 ASP Qpel + MP3 CBR

Passed

VID-3G MPEG4 ASP with GMC 1 & 3 warp points test (DivX & XviD) 1-Passed
1 warp point was flawless but the 3 warp point stuttered and audio lost sync
VID-3H MPEG4 ASP Bitrate Crash Test (750/1500/3000/4500)

4500-Passed

CONT-1A MPEG4 ASP + MP3 2.0 48KHz 96Kbps CBR

Passed

CONT-1B MPEG4 ASP + MP3 2.0 48KHz 96Kbps VBR

Passed

CONT-1D MPEG4 ASP + Multiple MP3 2.0 48KHz 96Kbps CBR

Passed

CONT-1E MPEG4 ASP + Multiple AC3 5.1 Eng

Passed

CONT-1F MPEG4 ASP + MP3 2.0 48KHz 96Kbps CBR + Multiple subtitles

Passed

CONT-1I MPEG4 ASP + DXAudio 2.0 CBR = old WMA

Passed

CONT-1J MPEG4 ASP + Multi DXAudio 2.0 CBR

Passed

CONT-2A MPEG4 ASP + MP3 2.0 48KHz 96Kbps CBR

Passed

CONT-2B MPEG4 ASP + MP3 2.0 48KHz 96Kbps VBR

Passed

CONT-2C MPEG4 ASP + AC3 5.1 48KHz 384 Kbps CBR

Passed

CONT-2D MPEG4 ASP + Multiple MP3 2.0 48KHz 96Kbps CBR

Passed

CONT-2E MPEG4 ASP + Multiple AC3 5.1 Eng

Passed

CONT-2F MPEG4 ASP + MP3 2.0 48KHz 96Kbps CBR + Multiple subtitles

Passed
All other tests listed in the Instructions manual failed to see a full list please download the manual Here

I also noted a few items of interest .jpg pictures can only be rotated in 480p/480i mode using 720p or 1080i disables the feature. Running the tests in 480i, 480p, 720p or 1080i made no noticeable difference in the test results basically when issues in playback occurred it was the same regardless of the up-conversion used which shows that Zoran Chip is pretty powerful.

HDMI or High Definition Multimedia Interface
HDMI has emerged as the digital standard for connecting HD devices, displays and components, and provides for the pristine transmission of high-definition digital video and digital audio via a single cable. Both based on Silicon Image's high-speed digital TMDS technology, HDMI is fully compatible with DVI (Digital Visual Interface) based devices
Video and Audio signal remains digital from output device to display device means means no Compression or Conversion
Over two times 1080i bandwidth with 1080p capable and beyond
Includes YUV color space support
HDCP High-bandwidth Digital Content Protection
HDCP is a specification developed by Intel Corporation to protect digital entertainment content across the DVI/HDMI interface. The HDCP specification provides a robust, cost-effective and transparent method for transmitting and receiving digital entertainment content to DVI/HDMI-compliant digital displays. If you have HDMI you need it to be HDCP compatible or some connections won't work. The point of having HDCP support is to basically stop anyone from recording a High Quality Digital signal or prevent one from being displayed on any device deemed unsuitable for copy-protection issues. if you don't have units that are HDCP compatible anywhere in the chain the signal gets blocked.
Final Words
Obviously the LG LDA-371 packs a lot of processing power under it's hood thanks to Zoran's Vaddis 8 chip with it's long list of supported features it should be no surprise that the LG produced stunning images over the HDMI connection to my Proview 32" HDTV LCD at 720p I did find rendering photos from the memory slots with a Compact Flash card slow but since the pictures are 3072 x 2304 (7.1MP) and needed to be resized to 1280 x 720 (720p) the delay was acceptable and the resulting images were very detailed with no visible moire issues. Other than some reading issues with a few older DVD-R's of dubious quality the LG seems to read pretty well everything I was able to throw at it.

The technology found in the LG is solid and Zoran along with other chipset makers have been hard at work to produce the best picture possible and add full DivX and XviD compatibility. Interestingly enough the new ARCAM DiVA DV137 that was announced on May 26, 2006 and retails for a whooping $1999 uses the Zoran Vaddis 8 chip. This is an excerpt from the announcement

"The DV137 is the result of the most intensive development project Arcam has ever undertaken. The company's unique partnership with Zoran, in which our engineers worked hard to ensure that every single processing element was of audiophile and videophile quality, has allowed us to be first to the market with this brand-new processor. We can now deliver universal music replay, stunning overall video performance and even better CD sound quality. This is a truly universal player and a great reason not to be a beta-tester for BluRay or HD-DVD."
"Arcam is the first in the world to use this chipset which handles universal replay and delivers stunning results. A true high-performance universal player using the latest generation Zoran Vaddis 8 chip"
Bottom Line
The Zoran Vaddis 8 chip appears to be good enough for the Arcam $1999 DVD Player so I expect the LG LDA-371 is probably not going to disappoint at a mere $149.99
I hope you found this review helpful and informative
biline