D-Link Boxee Box Review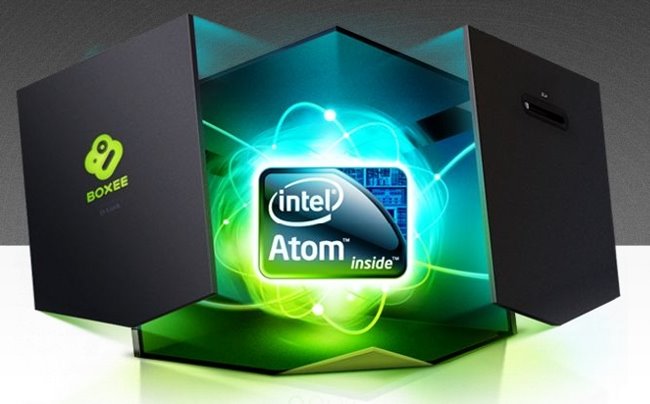 What is a Boxee Box?
Well I guess the description from the Boxee website sums it up pretty well so instead of me trying to describe it I'll use theirs.
A lot of your favourite shows and movies are already available on the Internet. Boxee is a device that finds them and puts them on your TV. It's easy to use and even better, there's no monthly fee.
TV Shows


Your Boxee comes with thousands of TV show episodes available from the Internet. Find the show you want to watch, click play and Boxee handles the rest.

Movies


A massive rental library is available too – from Netflix's Watch Instantly library to VUDU's brand new Hollywood blockbusters to critically acclaimed and foreign films on MUBI. There's something for everyone and for every budget.

Applications


The most popular video, music, and photo services are available in our App library, including MLB, NHL, Pandora, Flickr, Facebook, Vimeo, and hundreds more. Each App is designed to be enjoyed from your couch.

Watch Later


Watch Later is an easy-to-use Boxee companion that allows you to send web videos, including TV shows online, to your Boxee from any Internet browser.

Social


Connect your social life to your TV to get recommendations from your friends on Facebook and Twitter. Never miss out on the latest funny video, and if you find a new gem, share it with your friends with a click of the remote.

Personal stuff too


If your computer can play the video, song or picture, then Boxee can play it. Turn your existing collection into a beautiful media library so you never have to wander through files and folders again.
I borrowed this from the Boxee FAQ but it does answer and describe what the Boxee is and can do.
What is Boxee?


Boxee is the best way to watch movies, TV shows and clips from the Internet on your TV. You can buy a device powered by Boxee or build your own Boxee using a new or used computer.

What can I watch on my Boxee?


If it's available on the Internet, then you can probably watch it on your Boxee - there are more than 40,000 TV show episodes and movies currently available through Boxee. Plus, you can play personal stuff from your network or hard-drive.

Which video formats can Boxee play?


Boxee supports Adobe Flash 10.1, FLV/On2 VP6 (FLV/FV4/M4V), H.264 AVC (TS/AVI/MKV/MOV/M2TS/MP4), VC-1 (TS/AVI/MKV/WMV), MPEG-1 (DAT/MPG/MPEG), MPEG-2 (MPG/MPEG/VOB/TS/TP/ISO/IFO), MPEG-4 (MP4/AVI/MOV), DivX 3/4/5/6 (AVI/MKV), Xvid (AVI/MKV), and WMV9 (WMV/ASF/DVR-MS).

Which audio formats can Boxee play?


Boxee supports MP3, WAV/PCM/LPCM, WMA, AIF/AIFF, AC3/AAC, OGG, FLAC, DTS, and Dolby Digital/Dolby True HD

Which image formats can Boxee display?


Boxee supports JPEG, PNG, GIF, BMP, TIFF.
Time for a little confusion?
Boxee is a software program that can be downloaded for free to a computer and it does all of the above mentioned things, what happened was D-Link partnered with the Boxee software and created a very small inexpensive computer that runs only the Boxee software and provides you with everything you need to watch 1080P video in a tiny little weird shaped product that is called Boxee Box.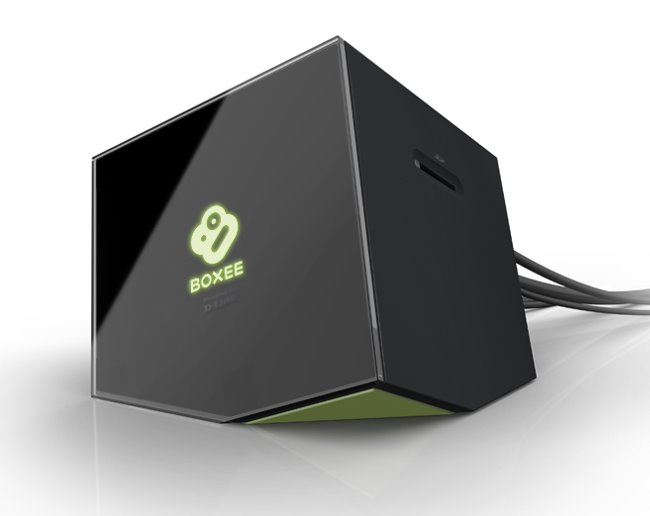 Boxee Box is a 'Heptahedron' shape and contains an Intel CE4110 system-on-a-chip platform that has a 1.2Ghz Intel Atom CPU with a PowerVR SGX535 Integrated graphics processor, 1GB of RAM memory, and 1GB of NAND Flash Memory. It features output ports for HDMI, optical digital audio (S/PDIF) connector, and RCA connector for analog stereo audio, two USB ports, an SD card slot, wired 100Mbps (100BASE-T) ethernet, and built-in 802.11n WiFi. The Boxee Box was designed by San Francisco based Astro Studios, which is the same designer company that designed the look of Xbox 360 and the Microsoft Zune.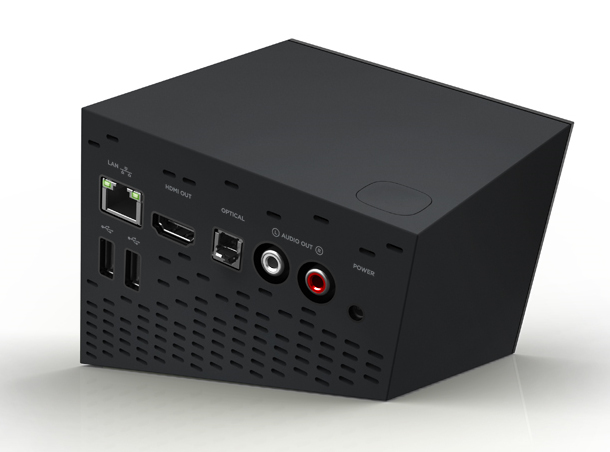 The Boxee Box also ships with a small two-sided RF remote control with 4-way D-pad navigation and a full QWERTY keypad as standard.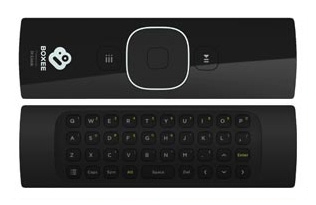 The Boxee Box is being constantly updated with automatic updates to improve or add features and I based this review on Boxee version 1.1.1.19092 If anyone has read any other reviews than I can safely say that 90% of all the gripes or issues have been resolved with this update and they have implemented many new features. The list is below:
Browser Upgrades

Favorites (Bookmarks) & History – Now you can easily get back to pages you've just viewed or ones you visit most often.
New On Screen Display (no auto-full screen*) – We've cleaned up the web playback OSD to let you see more of what's going on in the background and to include access to a few more options down below.
HTML 5 To The Max – We've improved our support for HTML 5 so you'll now be able to access more content, like HBOGO.

Movie Trailers – What better way to keep up with the latest movie releases than by watching movie trailers on your TV until your heart's content.
On Screen Display Loses Some Weight – We've revamped the OSD and included an awesome new seek bar for precise rewinding/fast forwarding, slimmed down the button count, and made it easier to see what's going on behind the scenes. We've also removed the volume control for a more consistent experience.*
Customized Artwork / Info for Media Files - Why let Boxee pick movie art and descriptions when you can have your own? Import video into Boxee and add your own artwork and metadata to accompany it with NFO files. Works like a charm on home movies.
Local File Playback - We now have support HFS formatted drives, seek functionality inside music playback, and you can filter local files by source.
Share Where You Want – now you can specify whether you want to share that ColdSteel video to Facebook, Twitter, or Tumblr with a helpful character counter built-in.
MLB.TV Upgrades – This new version has enabled a lot of updates to the MLB.TV app so now you'll be able to watch live and archived games, jump to specific innings or game events, see pop-up details on every pitch, and have a much easier time rewinding and fast-forwarding in games.
More Languages – The Boxee Box is on sale in 34 countries. While "Boxee" translates well into all of them, the rest of the words on screen are a bit off. Now users can enjoy Boxee in German, French, Italian, Spanish, Swedish, Hebrew, Danish, Dutch, Turkish, Russian, Arabic, Portugese (Brazil), Czech, Norwegian, Finnish, Polish.
New Content – we threw in some extra content just for good measure.

Wealth TV, A team of acclaimed producers create fresh programs on private jets and exotic first-class travel as well as intellectual discussion on money and philanthropy, all in HD.
SnagFilms, committed to finding the world's most compelling documentaries, whether from established heavyweights or first-time filmmakers to make them available to the wide audience these titles deserve. SnagFilms serves up full-length documentary films for free.
What do I use a Boxee for?
The biggest problem with Boxee Box is that it's being compared to Apple TV or other Media Players and depending on your primary reason for purchasing one it may not be the best option either for price (Boxee Box is $199) or features or ease of use or certain types of content. Boxee Box does many things very well but maybe not better than a more specific purposed device. I don't use it much as a web browser because I have a Nook Tablet and a PC, these devices allow you to browse much easier than using the Boxee Box. I love using 'utube' and other online video services with the Boxee Box, it works great and with the many specific applications Boxee offers you can spend many hours watching online content. I don't use the social features so I can't say much about these features. What I can say is that this device is hands down the best Media Player you will ever find! It played everything I had to offer and once I figured out the issues with some naming conventions (more on this further down) the Boxee automatically went through my entire movie collection and automatically downloaded Cover-art and detailed synopsis for every title that was spanned across numerous hard-drives and directories. I no longer need to remember if I have a title or where the heck I decided to store it as Boxee just plays it when selected from the Movie menu! That alone makes it a 100% must for every person with a large collection of videos. That being said I did have some issues which are below, they are resolved but users may have to re-organise their file/naming system.
Problems finding all my videos
My Boxee was not finding all of my files, it has to do with the naming style apparently. If I name a series 'the big bang theory S01E01' only the first 19 shows are shown in the playable files menu when I change it to 'S01E01-the big bang theory' all 24 episodes are shown. I only figured this out after reading about proper naming conventions used by Boxee (have a look Here). I also discovered that many of my videos were not showing up after allowing Boxee to scan my drives so I tried many things including renaming all of my files to the recommended style but I still was having issues. I searched forums but I didn't manage to find any answers but I noticed a mention of having only one movie per directory so I put each movie into it's own folder and re scanned only to have the same result. I printed the file list and compared it to the Movies Boxee did find to check for patterns. Maybe certain characters or naming style or extension may be affecting the search. I did notice a strange problem, the first 29 files are found then 25 are skipped the next 29 are found, so on and so forth. The problem seems to be an issue with a folder that contains more than 29 files or directories beneath it. I suspect maybe the process takes to much internal memory and fails after more than 29 files are loaded at a time, this may be related to a delayed write to the nand or the cover-art downloaded fills the cache and only resolves itself after 25 more files are sent through.
Solution is 25!
So I set up a main folder with the folders A through Z under it and placed the proper titles under the correct letter, when I was at the titles starting with 'T' I only placed 25 files into the folder and created a new folder called 'T2' and put the balance of the files into it. I added the main folder as a source to be scanned and it found all 197 videos! I have not bothered to rename all of my files back to the original names as I believe following the naming convention outline below is the best option to good accuracy.
Movies
Boxee currently supports the following naming convention for movies:
Title.extension Examples: Die.Hard.avi Toy.Story.2.avi

It is recommended that you add the movie's release year for greater accuracy, especially when dealing with remakes. Title.(YEAR).extension Examples:
The.Day.the.Earth.Stood.Still.(1951).avi
The.Day.the.Earth.Stood.Still.(2008).avi

For multi-part movie both part# and cd# are supported.
Title.part#.extension Examples:
Seven.Pounds.cd1.avi
Seven.Pounds.cd2.avi

TV Shows
TV Shows' file names are usually consisted of the show's name, the season (usually indicated by the letter "S", or just the number), the episode (usually indicated by the letter "E", or just the number), the episode's title, and some more info regarding the quality and source of the file. Boxee currently supports the following types of naming conventions for tv shows.

Show.Title.S##E##.info.extension (double digits are required: S#E# will not work.)
Examples: The.Sopranos.S02E01.avi Entourage.S05E01.avi

Music
With music, the most important issue is the id3 tags. These tags hold all the information such as album name, artist, year, genre and even artwork. Whatever is there, will be presented in Boxee, so be sure to include as much info as possible in your id3 tags.
Remote Issue
So other than the naming issues the Boxee has performed admirably and who knows maybe the issue will be fixed in another system update in the near future. I have one last issue and it has been mentioned by many users, the QWERTY keys on the remote use a very poor choice of colours for the lettering and it makes deciphering the letters impossible in any low light. Backlighting would have made the remote perfect it now stands as a blemish on a otherwise great product.
Final Notes:
Some users have complained about the RF feature of the remote because they use programmable remotes that rely on IR to work correctly I'm happy to report that You can use a 'Windows Media Centre USB IR Remote' with the Boxee solve the problem. The remote has no 'Power' button so unless the Boxee is in sleep mode you can't turn it on unless you manually hit the power button, but at least putting it to sleep or turning it off can be done within the Boxee menus. Unfortunately 'Sleep Mode' does not save much power as discovered by AnandTech. The Boxee Box when set to sleep will draw anywhere from 11 - 13W, there's no difference between it being asleep and awake and idle.
Problems aside the Boxee has lots to offer 90% of users and the low price of $199 makes it hard to fault for the small issues compared to what it offers in terms of functionality, hopefully as mentioned updates will fix the remaining issues in the mean-time don't just sit here reading this go get one!
I added this section for those of you having issues getting Network shares working correctly.
If your file share is on a Mac OSX machine:

1) Make sure your shares are exposed via SMB: go to system preferences, sharing, file sharing (ensure this is enabled), options, and check 'Share files and folders using SMB (Windows)'
2) Make sure your shares are available either via a guest account, or via a user account you can enter on your boxee box.

If your file share is on a Linux machine:

1) Make sure you have a netbios name set for your machine (typically in /etc/smb.conf or /etc/samba/smb.conf) and that you have your shares set as browsable.
2) Make sure the nmbd (netbios name resolution, this is part of samba) is running on your server; without this you will need to add your shares manually using the ip address
3) If possible, validate that you can access the shares from another machine
4) Ensure that either a) your shares are marked as guest accessible, or b) your shares are accessible by a user account that you can enter on your boxee box.
5) Ensure you have file permissions set on the share in line with the user account you use; if you use a guest account to access the share, you must ensure that read permissions are available for the guest user

If your file share is on a Windows Vista or Windows 7 machine:

1) Ensure your network interface is marked as 'home'. Windows ties a huge amount of state in file sharing support and firewall configuration to the network type.
2) Ensure you either have guest access enabled and your file shares are marked as readable by everyone, or that you have your folders shared by a specific user account you can enter on your boxee box.
3) In your networking settings, make sure that file sharing is enabled; this should be set by default if your network interface is set to home, but it may be disabled on accident
4) If possible, browse your network using explorer (open an explorer pane, go to the lower left and select network, then choose your workgroup - which is probably 'WORKGROUP' or 'MSHOME' - make sure your machine shows up there)
5) If you are using user accounts, you may need to ensure that security on the folders and files you are accessing allows 'everyone'. It is worth noting that if you configure a homegroup, file permissions are set correctly for your files.
6) Very important - it is worth noting that the security access on shares can show one thing in the 'share ...' section and a completely different thing in 'advanced settings' -> 'permissions' section. You need to ensure that both of these sections are aligned, otherwise you may get access denied issues.
7) On a Windows 7 share also set the 'security' settings to allow 'everyone' to read from it.

If your file share is on a Windows XP machine:

1) Make sure you either have a firewall exception that covers file sharing, or that you have the firewall disabled. The inbox firewall for Windows XP SP2 and SP3 has a simple configuration for this, as do most third party firewall applications.

Odds and ends for Windows machines:

*) If your windows machine is part of a Windows domain (this is sometimes the case on larger company networks), you'll need to have a local machine user account (preferably not the administrator account) that you can give read access to your shares. This local machine user account will be the one you use from the boxee box, not your Windows domain account

*) If your network is part of a domain configured with IPSec (very rare) you may need to check with your IT administrator to ensure that NetBIOS and SMB are accessible by non-domain devices.

*) If you are still getting prompted for credentials and unable to access your windows share, and you've removed windows live essentials, and you no matter what cannot get things to work, you can try what some wdtv live owners have done to correct windows security policy around file sharing. Please note these are advanced settings and you should set a restore point prior to trying these:

Start > type 'Secpol.msc' .... Navigate to 'Local Policies' > 'Security Options' > 'Network access: Restrict anonymous access to Named Pipes and Shares' ... changed from 'enabled' to 'disabled'.
Preform the following registry changes...
a. Navigate to 'HKEY_LOCAL_MACHINE\System\CurrentControlSet\Contr ol\Lsa' ...
i. On the right side, double-click on 'everyoneincludesanonymous' and change the 'Value data' from '0' to '1'
ii. On the right side, double-click on 'NoLmHash' and change the 'Value data' from '1' to '0'
b. Navigate to 'HKEY_LOCAL_MACHINE\System\CurrentControlSet\Servi ces\Lanman Server\Parameters'
i. Double-click on 'restrictnullsessaccess' and change the 'Value data' from '1' to '0' (Note: this value was allready set to 0 for me)
Re-boot your PC, then navigate to the network shares on WDTV Live and hopefully this will work for you to.
Hopefully I've covered everything......