Creative Zen Micro MP3 Player Review Part 2
The Goodies!
Features and specifications of the Creative Zen Micro
Holds 2,500 songs on 5GB hard drive
Micro sized (WxHxD: 2" x 3.3" x 0.7" or 51mm x 84mm x 19mm)
Available in 10 electrifying colors
Black, White, Silver, Dark blue, Light blue, Red, Purple, Citrus Orange, Lime Green and Pink
Get up to 12 hours playback on a single charge
Features a removable, rechargeable lithium ion battery
FM radio to listen and record with 32 preset stations
Built-in microphone for up to 10hrs voice recording
Vertical touch pad for easy and intuitive navigation
Access over 2 million songs through Zen supported music services
Highest audio clarity at 98dB SNR
High fidelity earphones with dynamic bass response
Contacts, Calendar and To Do List
Plays MP3, WMA, WAV files
Functions as an external hard drive for backup of computer files
Backlit LCD displays track info
Repeat, resume, and random play
8 EQ settings
Acoustic, classical, disco, jazz, new age, pop, rock and vocal
Sleep and wake timers
Customizable main menu, so the features you want are right at your finger tips
USB 2.0 interfaces (cables included)
Belt clip / stand
weight: 3.8 oz. (includes removable battery) approx. 110g
Headphones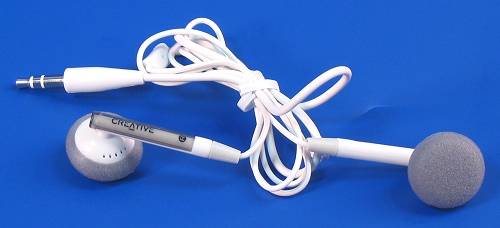 The Included Headphones are of decent quality and appear to have good bass output for such a small headphone, but whether you decide to use them or upgrade to a better set depends on your listening tastes. The provided pair are definitely a good start and such appease most users.
The Zen utilizes the USB 2.0 standard so transfers are about as quick as the iPod with a similar USB port. I had a Firewire iPod and can't really say that it was much faster than the Zen but I don't have any data to support my comments.

The top of the Zen has the required Headphone jack (which is located in the middle) it can also accommodate a wired remote that is sold as an accessory on the
Creative
site. On the left side is the Power/Lock switch which allows you lock the device to avoid you accidentally hitting any controls. On the right side is the Mini USB connector which serves double duty as the method of charging the device and transfer files. The USB cable allows you to charge the device while downloading music and the wall-wart adapter also charges through the same port. A nifty feature that tells you it's charging is the funky glow that fades in and out as it charges. Finally on the far right a small hole is where the integrated microphone is hiding.
A lot of information is displayed on the LCD screen of this player. It tells you the song name, artist and from which CD the MP3 came (assuming your ID tags are correct). It also displays a counter.

When used the Zen's LCD lights up a pale blue, and the menus of the Zen Micro are easy to use. You can scroll through your play list by using the vertical touch pad. Confirming something needs to be done by gently touching the touch pad. I found the touch pad easy to use, others may find it over sensitive, thankfully Creative allows you to adjust the sensitivity of the touch pad in the system settings menu.

There are also a few other buttons on this player. (from left to right) 'Previous track', 'Play/pause' and 'Next track' button. Under these there is a 'Back' button and a 'Menu options' button which is easily recognized as it looks the same as a windows menu icon.

After using the iPod's interface and the Zen's I can say both are user intuitive and I have no issues or complaints using either one both are intuitive and simple to use while offering a depth of system settings and the obvious equalizer settings, Creative throws in quite a few pre-configured presets for you to play with.
One of the other features of the Zen Micro is the ability to listen to FM-radio. I wasn't looking for this feature but I may even use it more than one time to ensure it worked. The Zen is able to store up to 32 presets which you can custom name, it scans for radio stations but this didn't work well as some of the stations it picked up were unlistenable due to excessive noise. I don't imagine this is a huge issue but I found it annoying that you need to go through all 32 stations before returning to the first preset, a feature to only preset the stations you want should have been included.
Overall the radio reception with decent signals was very good and would fulfill any desire to listen to the radio. The added feature of being able to record any broadcast to the Zen Micro was neat and could come in handy. The recording function on FM works well, though I'd like to see scheduled recordings added as a feature, after all if your going to record from the radio it would be nice to be able to leave it unattended while it records that special program you didn't want to miss. Zen records the radio at ADPCM 22KHz stereo, which has a bit-rate of 22Kbps. (ADPCM stands for 'Adaptive Differential Pulse-Code Modulation' and it gives you a 4:1 reduction in size over the usually required space needed if it wasn't compressed)
Another neat feature is is the ability to use the Zen as a 'Personal Audio Recorder', by using the ADPCM compression it should allow close to 10 hours of recording time (if your drive is empty).
Alarm anyone?
The Zen Micro lets you set an 'Alarm' to wake you to your favorite play list, I can't see it replacing many Alarm clock but its a nice feature to have when taking a quick snooze somewhere.
There's now a feature that allows the Zen Micro to act as a USB 2.0 hard-drive, but you first have to activate the feature in the Micro's 'Extras menu'. You can select a partition size (128MB up to 2GB) then the Zen Micro formats the partition. The partition can be resized without losing any files on the existing partition. You won't be able to access any of your music stored on the Zen when it's in 'Hard-drive' mode, but you also don't need a special driver, it uses the Windows USB Mass Storage driver and functions as a portable hard-drive.
The included software allows you to Sync the Zen Micro with Outlook and you can then view your 'Calendar' and 'Contacts' right from the Zen. I have mixed feelings about the software but it allows you to accomplish whatever task is at hand so I can't complain to much about that.
You can transfer music using two methods but first you must update the firmware to
Creative Zen Micro *PlaysForSure/MTP Firmware 2.00.12
and update the installed software to
Zen Micro Media Explorer 1.00.11 for Creative Zen Micro
Once this is done you can access the Zen right from Windows Explorer and drag and drop files directly to the Zen Micro. The other route is to use the Creative Zen Explorer which has options to 'Sync' your music to certain folder(s) you designate. This a welcome change over iTunes which crashed more often than not and mangled my play lists. I ended up purchasing a Third-party solution called Anapod from Red Chair software they also produce a product called Notmad for the Zen Micro which has some neat features including a claim of 20% faster transfers than the Creative software, its also free for the basic version so give it a try.
Well that's about all I can think of for now, so let's end this by stating that the Zen Micro compares pretty well against the iPod Mini and offers a full Gig of extra storage and an FM tuner. I've used mine for a month and can't find anything negative to say.
I shouldn't need to purchase a new Mp3 player until the Zen Micro Photo is released!
I'll never be able to save any money.....these gadgets keep calling my name .....can't...... resist.......
Hope this review was helpful
biline