The Audio Critic: Introducing the Web 'Zine
As of February 15, 2005, The Audio Critic is no longer a print publication but a Web 'zine. We have migrated to the Internet.
This is a radical change, with both advantages and disadvantages. It required a radical decision that was not made lightly. The new Web 'zine format allows us to add equipment tests and other articles just about every week, bit by bit, continuously, like a blog, instead of the long months of silence between print issues. On the other hand, the permanence, tangibility, and esthetic value of a printed publication with graphic design, a "book" that you can hold in your hand, is now gone.
Our reasons for the change were many and compelling. Printing costs have skyrocketed. Mailing costs are out of sight. Even the cost of distributing retail copies of the magazine to the various bookstores and newsstands has increased beyond reason. At the same time, our subscriber base (as distinct from our retail base) has been slowly shrinking, consisting mainly of elderly people, alas. Advertisers are hard to find with that kind of readership, not to mention our laggard publishing schedule. On top of it, your Editor/Publisher got old and no longer has the patience for boring business chores that have nothing to do with equipment testing or writing.
---
Table of Contents

Audio Legacy
Peter Aczel | 30 April, 2015
What I have learned after six decades in audio
(call it my journalistic legacy)
Linkwitz Lab LX521
Peter Aczel | 08 April, 2014
Powered 4-Way Dipole Loudspeaker System
Benchmark DAC2 HGC
Peter Aczel | 20 Aug, 2013
PCM and DSD D/A Converter with Line-Level Preamp and More
Latest DIY Orion Mod
Peter Aczel | 08 Jan, 2013

Audible improvements of the Linkwitz Lab "Orion" loudspeaker
revision now reviewed is 3.3.1SN

Computer Speakers
Peter Aczel | 23 Nov, 2011
The Olasonic TW-S7 is something different a genuine hi-fi speaker on a drastically reduced scale.
New Orion Versions
Peter Aczel | 12 July, 2011

Yes, another Orion revision

,

the Orion 3.3 and the Orion 4!

Linkwitz Lab "Orion 3.2.1"
Peter Aczel | 04 December, 2010

Yes, another Orion revision

.

The Orion 3.2.1 is physically no different from the Orion+; all the changes are in the electronics, but they are significant.

Lenny Revisited
Peter Aczel | 18 November, 2009
Reissues of classic performances conducted by Leonard Bernstein, new recordings of music composed by him—they keep coming.
Impressive Video
Peter Aczel | 31 October, 2009
Blu-ray Disc Player & DLP High-Definition TV
OPPO BDP-83 & Mitsubishi WD-73835
Micro Speaker
Peter Aczel | 22 July, 2009
Powered Micro Loudspeaker
Soundmatters "foxL"
Benchmark Preamp/DAC
Peter Aczel | 07 July, 2009
Stereo Front End with Preamp, DAC, Remote Control & More
Benchmark DAC1 HDR
Unique and Unexpected
Peter Aczel | 27 April, 2009
I am an unregenerate and unrepentant Wagnerian, so I try to keep abreast of all new Wagner releases on CD.
Recent CDs/DVDs
Peter Aczel | 15 April, 2009
Most classical recordings released over the past twenty years are of decent quality in both performance and sound. The standards have been raised to a fairly high and uniform level.
Pluto-2
Peter Aczel | 12 November, 2008
Powered 2-Way Floor-Standing Loudspeaker System
Linkwitz Lab "Pluto-2"
CDs/SACDs Again
Peter Aczel | 30 July, 2008
The following is merely a random sampling of what I've been listening to since the last group of reviews in November 2007.
Sony HD Tuner
Peter Aczel | 15 May, 2008
HD Radio FM/AM Digital Tuner
Sony XDR-F1HD
Orion++
Peter Aczel | 30 March, 2008
Powered 4-Way Dipole Loudspeaker System
Linkwitz Lab "Orion++"
More CD/SACD
Peter Aczel | 09 November, 2007
Here's what I've found noteworthy, from my admittedly un-musicological and often audio-biased point of view, among the recent and not so recent releases that have come my way.
Redbook vs. Hi-Rez
Peter Aczel | 17 October, 2007
Incontrovertible double-blind listening tests prove that the original 16-bit/44.1-kHz CD standard yields exactly the same two-channel sound quality as the SACD and DVD-A technologies.
AT6012 Amp
Peter Aczel | 15 October, 2007
12-Channel 6-Zone Power Amplifier
Amplifier Technologies AT6012
Letter to Ed.
Peter Aczel | 08 July, 2007

Obsession with Amplifiers: Letters to the Editor is not a feature of this website because in nearly all cases they are trivial and replying to them is a waste of time. The following exchange is an exception.

Spherex Surround
Peter Aczel | 03 June, 2007
Integrated 5.1 Surround Sound System
Spherex Xbox 5.1

Electronic Personality?
Peter Aczel | 26 April, 2007

I keep forgetting that my newer readers outnumber the old-timers and that some of the basic truths about audio that are old hat to me and to the regulars are new and fresh to the recent arrivals.

New A/B Technique
Peter Aczel | 27 February, 2007

Bill Waslo of Liberty Instruments has come up with a new methodology that has the potential of being more widely used because it is simpler, takes less time and less fussing, and is basically automated.

CD/SACD Reviews
Peter Aczel | 01 January, 2007

As always, I am reviewing only those CDs, new or fairly recent, that I found interesting. (Sometimes even a bad performance can be interesting.)

Loudspeakers
Peter Aczel | 25 December, 2006

I have written about this many times before but I keep forgetting that more of my readers are first-timers than longtime habitués. So, even if you know little or nothing else about audio, be aware of this:

Transparent Fraud
Peter Aczel | 21 October, 2006

A Fraud that Anyone with Common Sense Can See Through

Class T-Amp
Peter Aczel | 09 October, 2006

8-Channel Digital Power Amplifier
AudioDigit Class T-Amp MC8x100

NXT Loudspeakers
Peter Aczel | 09 August, 2006

This was an attempt to investigate the high-fidelity possibilities of a radically new and different transducer technology.

CDs & SACDs Again
Peter Aczel | 18 July, 2006

As our regular readers know, I am neither a professional musician nor a tweako audio cultist. You won't find either one of those perspectives here. I just listen to CDs and pick a few interesting ones to review.

Canton Loudspeaker
Peter Aczel | 07 May, 2006

Floorstanding 3-Way Loudspeaker System
Canton Vento 809 DC

Interviewing the Ed.
Anonymous | 13 April, 2006

The following interview was conceived, produced, and edited by a longtime subscriber to The Audio Critic who wishes to remain anonymous. The questions were entirely the interviewer's choice; your Editor merely answered them as best he could.

Parasound Amp
Peter Aczel | 05 April, 2006

2-Channel Power Amplifier
Parasound Halo A 21

CD/DVD Reviews
Peter Aczel | 19 February, 2006

Once Again, CD and DVD Reviews. Maybe I should elaborate on, and clarify, my previous comments on the subject of serious ("classical") music vs. popular music.

Editorial
Peter Aczel | 13 February, 2006

The Realities of Audio: an Old Man's Musings. I've been writing on the subject of audio for 50 years, 30 of them for The Audio Critic, and at this point I am something of a burnout.

8-Channel Bryston
Peter Aczel | 10 December, 2005
Topology and Afterthoughts
David Rich | 15 December, 2005

8-Channel Power Amplifier
Bryston 875HT
The Bryston 875HT: Topology and Afterthoughts By David A. Rich, Ph.D

Behringer Amp
Peter Aczel | 02 December, 2005

2-Channel Power Amplifier
Behringer A500 "Reference Amplifier"

Nousaine Editorial
Tom Nousaine | 28 August, 2005

Déjà Vu All Over Again
By Tom Nousaine Contributing Editor

More on "Orion"
Peter Aczel | 30 July, 2005

Postscript to the Linkwitz Lab "Orion" Review

More CDs
Peter Aczel | 31 May, 2005

Once Again, CD's. Please refer to the February 7, 2005 posting of CD/DVD reviews for some remarks on my approach to music reviewing and my perception of the current music scene.

Parasound Miniamp
Peter Aczel | 08 May, 2005

2-Channel Power Amplifier (Z Series)
Parasound Zamp v.3

The Doctor Zaius Syndrome
Peter Aczel | 05 April, 2005

When the truth is so terrible that admitting it would surely make the whole system crumble, ape logic demands denial and coverup.

Center-Channel Speakers
Tom Nousaine | 04 April, 2005

What's wrong with two-channel stereo? The main problem: it's a sweet-spot deal. Good spatial rendition requires that listeners sit on the centerline.

Soaring Audio Amplifier
Peter Aczel | 14 March, 2005

2-Channel Power Amplifier with Processor
Soaring Audio SLC-A300

Benchmark DAC1
Peter Aczel | 02 March, 2005

2-Channel 192/24 D-to-A Converter
Benchmark DAC1

Mapleshade CDs
Peter Aczel | 14 February, 2005

For a number of years now, I have been shaking my head in disbelief over the sound of Mapleshade CDs. They had no right to sound that good

CDs and DVDs
Peter Aczel | 07 February, 2005

Why am I writing these capsule reviews of CDs and music DVDs instead of having a professional music critic write them? Because I just can't find a suitable successor.

Linkwitz Lab "Orion"
Peter Aczel | 06 February, 2005

Powered 3-Way Dipole Loudspeaker System
Linkwitz Lab "Orion"

BeoLab 5
Peter Aczel | 04 February, 2005

Powered 4-Way Digital Loudspeaker System
Bang & Olufsen BeoLab 5
---
Audio Legacy
What I have learned after six decades in audio (call it my journalistic legacy):
Audio is a mature technology. Its origins go back to Alexander Graham Bell and Thomas Alva Edison in the 1870s. By the early 1930s, at the legendary Bell Laboratories, they had thought of just about everything, including multichannel stereo. The implementation keeps improving to this day, but conceptually there is very little, perhaps nothing, really new. I have been through all phases of implementation—shellac records via crystal pickups, LPs via magnetic and moving-coil pickups, CDs, SACDs, Blu-rays, downloads, full-range and two/three/four-way mono/stereo/multichannel speakers, dynamics, electrostatics, ribbons (shall I go on?)—and heard incremental improvements most of the time, but at no point did the heavens open up and the seraphim blow their trumpets. That I could experience only in the concert hall and not very often at that. Wide-eyed reviewers who are over and over again thunderstruck by the sound of the latest magic cable or circuit tweak are delusional.
The principal determinants of sound quality in a recording produced in the last 60 years or so are the recording venue and the microphones, not the downstream technology. The size and acoustics of the hall, the number and placement of the microphones, the quality and level setting of the microphones will have a much greater influence on the perceived quality of the recording than how the signal was captured—whether on analog tape, digital tape, hard drive, or even direct-to-disk cutter; whether through vacuum-tube or solid-state electronics; whether with 44.1-kHz/16-bit or much higher resolution. The proof of this can be found in some of the classic recordings from the 1950s and 1960s that sound better, more real, more musical, than today's average super-HD jobs. Lewis Layton, Richard Mohr, Wilma Cozart, Bob Fine, John Culshaw, where are you now that we need you?
The principal determinants of sound quality in your listening room, given the limitations of a particular recording, are the loudspeakers—not the electronics, not the cables, not anything else. This is so fundamental that I still can't understand why it hasn't filtered down to the lowest levels of the audio community. The melancholy truth is that a new amplifier will not change your audio life. It may, or may not, effect a very small improvement (usually not unless your old amplifier was badly designed), but the basic sound of your system will remain the same. Only a better loudspeaker can change that. My best guess as to why the loudspeaker-comes-first principle has not prevailed in the audiophile world is that a new pair of loudspeakers tends to present a problem in interior decoration. Swapping amplifiers is so much simpler, not to mention spouse-friendlier, and the initial level of anticipation is just as high, before the eventual letdown (or denial thereof).
Cables—that's one subject I can't discuss calmly. Even after all these years, I still fly into a rage when I read "$900 per foot" or "$5200 the pair." That's an obscenity, a despicable extortion exploiting the inability of moneyed audiophiles to deal with the laws of physics. The transmission of electrical signals through a wire is governed by resistance, inductance, and capacitance (R, L, and C). That's all, folks! (At least that's all at audio frequencies. At radio frequencies the geometry of the cable begins to have certain effects.) An audio signal has no idea whether it is passing through expensive or inexpensive RLC. It retains its purity or impurity regardless. There may be some expensive cables that sound "different" because they have crazy RLC characteristics that cause significant changes in frequency response. That's what you hear, not the $900 per foot. And what about the wiring inside your loudspeakers, inside your amplifiers, inside your other components? What you don't see doesn't count, doesn't have to be upgraded for megabucks? What about the miles of AC wiring from the power station to your house and inside your walls? Only the six-foot length of the thousand-dollar power cord counts? The lack of common sense in the high-end audio market drives me to despair.
Loudspeakers are a different story. No two of them sound exactly alike, nor will they ever. All, or at least nearly all, of the conflicting claims have some validity. The trouble is that most designers have an obsessive agenda about one particular design requirement, which they then inflate above all others, marginalizing the latter. Very few designers focus on the forest rather than the trees. The best designer is inevitably the one who has no agenda, meaning that he does not care which engineering approach works best as long as it really does. And the design process does not stop with the anechoic optimization of the speaker. Imagine a theoretically perfect loudspeaker that has an anechoic response like a point source, producing exactly the same spherical wave front at equal levels at all frequencies. If a pair of such speakers were brought into a normally reverberant room with four walls, a floor, and a ceiling, they wouldn't sound good! They would only be a good start, requiring further engineering. It's complicated. Loudspeakers are the only sector of audio where significant improvements are still possible and can be expected. I suspect that (1) further refinements of radiation pattern will result in the largest sonic benefits and (2) powered loudspeakers with electronic crossovers will end up being preferred to passive-crossover designs. In any case, one thing I am fairly sure of: No breakthrough in sound quality will be heard from "monkey coffins" (1970s trade lingo), i.e. rectangular boxes with forward-firing drivers. I'll go even further: Even if the box is not rectangular but some incredibly fancy shape, even if it's huge, even if it costs more than a luxury car, if it's sealed or vented and the drivers are all in front, it's a monkey coffin and will sound like a monkey coffin—boxy and, to varying degrees, not quite open and transparent.
Amplifiers have been quite excellent for more than a few decades, offering few opportunities for engineering breakthroughs. There are significant differences in topology, measured specifications, physical design, and cosmetics, not to mention price, but the sound of all properly designed units is basically the same. The biggest diversity is in power supplies, ranging from barely adequate to ridiculously overdesigned. That may or may not affect the sound quality, depending on the impedance characteristics and efficiency of the loudspeaker. The point is that, unless the amplifier has serious design errors or is totally mismatched to a particular speaker, the sound you will hear is the sound of the speaker, not the amplifier. As for the future, I think it belongs to highly refined class D amplifiers, such as Bang & Olufsen's ICEpower modules and Bruno Putzeys's modular Hypex designs, compact and efficient enough to be incorporated in powered loudspeakers. The free-standing power amplifier will slowly become history, except perhaps as an audiophile affectation. What about vacuum-tube designs? If you like second-harmonic distortion, output transformers, and low damping factors, be my guest. (Can you imagine a four-way powered loudspeaker driven by vacuum-tube modules?)
We should all be grateful to the founding fathers of CD at Sony and Philips for their fight some 35 years ago on behalf of 16-bit, instead of 14-bit, word depth on CDs and 44.1 kHz sampling rate. Losing that fight would have retarded digital media by several decades. As it turned out, the 16-bit/44.1-kHz standard has stood the test of time; after all these years it still sounds subjectively equal to today's HD techniques—if executed with the utmost precision. I am not saying that 24-bit/192-kHz technology is not a good thing, since it provides considerably more options, flexibility, and ease; I am saying that a SNR of 98.08 dB and a frequency response up to 22.05 kHz, if both are actually achieved, will be audibly equal to 146.24 dB and 96 kHz, which in the real world are never achieved, in any case. The same goes for 1-bit/2.8224 MHz DSD. If your ear is so sensitive, so fine, that you can hear the difference, go ahead and prove it with an ABX test, don't just say it.
The gullibility of audiophiles is what astonishes me the most, even after all these years. How is it possible, how did it ever happen, that they trust fairy-tale purveyors and mystic gurus more than reliable sources of scientific information? It wasn't always so. Between the birth of "high fidelity," circa 1947, and the early 1970s, what the engineers said was accepted by that generation of hi-fi enthusiasts as the truth. Then, as the '70s decade grew older, the self-appointed experts without any scientific credentials started to crawl out of the woodwork. For a while they did not overpower the educated technologists but by the early '80s they did, with the subjective "golden-ear" audio magazines as their chief line of communication. I remember pleading with some of the most brilliant academic and industrial brains in audio to fight against all the nonsense, to speak up loudly and brutally before the untutored drivel gets out of control, but they just laughed, dismissing the "flat-earthers" and "cultists" with a wave of the hand. Now look at them! Talk to the know-it-all young salesman in the high-end audio salon, read the catalogs of Audio Advisor, Music Direct, or any other high-end merchant, read any of the golden-ear audio magazines, check out the subjective audio websites—and weep. The witch doctors have taken over. Even so, all is not lost. You can still read Floyd Toole and Siegfried Linkwitz on loudspeakers, Douglas Self and Bob Cordell on amplifiers, David Rich (hometheaterhifi.com) on miscellaneous audio subjects, and a few others in that very sparsely populated club. (I am not including The Audio Critic, now that it has become almost silent.) Once you have breathed that atmosphere, you will have a pretty good idea what advice to ignore.
When I go to Verizon Hall in the Kimmel Center in Philadephia and sit in my favorite seat to listen to the Philadelphia Orchestra, I realize that 137 years after the original Edison phonograph audio technology still hasn't quite caught up with unamplified live music in a good acoustic venue. To be sure, my state-of-the-art stereo system renders a startlingly faithful imitation of a grand piano, a string quartet, or a jazz trio, but a symphony orchestra or a large chorus? Close but no cigar.
My greatest disappointment after six decades as an audio journalist is about today's teenagers and twentysomethings. Most of them have never had a musical experience! I mean of any kind, not just good music. Whether they are listening to trash or Bach, they have no idea what the music sounds like in real life. The iPods, iPads, iPhones, and earbuds they use are of such low audio quality that what they hear bears no relationship to live music. And if they think that going to an arena "concert" to hop around in one square foot of space with their arms raised is a live-music experience, they are sadly deluded. It's the most egregiously canned music of all. (To think that I used to question the fidelity of those small dormitory-room stereos of the 1960s!) Please, kids, listen to unamplified live music just once!
—Peter Aczel
Powered 4-Way Dipole Loudspeaker System
Linkwitz Lab LX521
Designer: Linkwitz Lab, 15 Prospect Lane, Corte Madera, CA 94925. E-mail: sl@linkwitzlab.com. Web:www.linkwitzlab.com. Kits: Madisound, 8608 University Green, Suite 10, Middleton, WI 53562. Phone: (608) 831-3433. E-mail: info@madisound.com. Web: www.madisoundspeakerstore.com. Also, Ear Food Speakers,Dr. Frank Brenner, Veilchenweg 5, D-70771 Leinfelden, Germany. E-mail: lx521@freenet.de. Web:www.magiclx521.com. Prices vary greatly according to the kits' content and state of assembly—please check the websites. Reviewed samples owned by The Audio Critic.
For photos (lots of them), please go to the websites indicated above.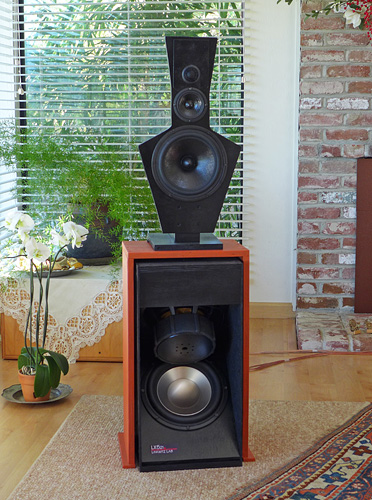 There are basically two approaches to advancing the state of the loudspeaker art. One is to accept an established paradigm and then refine its various elements to a new level of excellence. A prime example of this approach is Wilson Audio's. Dave Wilson accepts the classic concept of the forward-firing driver in a closed box and then does fabulous over-the-top things with the boxes, the drivers, the passive crossover networks, etc. (not to mention the prices). What he offers is essentially a world-class version of the old "monkey coffin" (1970s audio-store slang denoting a rectangular box with conventional forward-firing drivers).
The other approach is to examine all the established paradigms, identify their strengths and weaknesses, pick the most promising one, and then refine the latter to the point where it becomes, in effect, a new paradigm, and the tweaking of its constituent elements becomes a secondary project. That is Siegfried Linkwitz's design philosophy. For about ten years, his flagship was the Orion, incorporating all of his insights regarding open-baffle, powered, and equalized dipoles with a spectrally neutral radiation pattern (which is his number one priority). The Orion, in its progressively improved versions, represented a refinement of a number of previous Linkwitz speaker systems, which already incorporated the basics of the boxless dipole paradigm, and for a long time it seemed just about unbeatable for domestic stereo playback. Except to Siegfried Linkwitz. In his late seventies, he made an elder statesman's climactic effort to go beyond his previous best. The result was the LX521, which he says is his last loudspeaker.
Now, when SL says he is done with loudspeakers, he doesn't mean he has run out of steam (although I could very well understand that). No, he means he has evaluated all the alternatives, such as horns, electrostatics, ribbons, line sources, distributed mode diaphragms, not to mention monkey coffins of all kinds, and determined that their disadvantages outweighed their advantages in comparison with his solution. I suggest you go to www.linkwitzlab.com, undoubtedly the greatest loudspeaker website of them all, and dig deeper into his arguments. He now feels that the LX521 has taken his design theory to its practical limits and that there is no need for an encore.
The Design
Early reports suggested that the LX521 was an improved Orion, but that's not accurate. It is, in some respects, a simplification of the Orion, or purification is perhaps the better word. It produces purer results because, for one thing, its new architecture puts less of a burden on its drivers. The Orion's expensive SEAS Excel "Millennium" tweeter pair was assigned all frequencies above 1.4 kHz, thus splitting the midrange in the middle and necessitating very careful massaging of the midrange equalization in the electronic crossover/processor because a tiny change in an R or a C could significantly affect midrange neutrality. The LX521 solves that problem by cutting the Gordian knot and putting a 4-inch upper-midrange driver between the 8-inch lower-midrange unit and the 1-inch tweeter, thereby making the speaker 4-way. Linkwitz resisted the 4-way solution for years before coming to the conclusion that it actually simplified the design, produced better results, and was more cost-effective.
The 8-inch and 4-inch units, both recent "Curv cone" designs by SEAS, together form a very broadband "single" source of frequencies from 120 Hz to 7 kHz, separated at 1 kHz by a first-order passive crossover that blends them imperceptibly. The 120 Hz and 7 kHz fourth-order Linkwitz-Riley crossovers are electronic, effected by an ASP (analog signal processor) very similar to the Orion's, reusing the latest Orion PC boards. The 1-inch textile-dome front and rear tweeters by SEAS are much simpler and less costly than the Orion's, since they only handle the 1½ octaves above 7 kHz, a piece of cake by comparison. On the other hand, the two 10-inch SEAS woofers in push-pull are the same expensive long-throw model with aluminum cone as used in the latest Orion versions, except that the mounting is very different. The baffle board is a V with 45-degree slopes turned on its side, the woofer in the bottom leg facing forward in the open frame, the one in the top leg facing backward. This mounting is both simple and strong, minimizing vibration. That's not the master stroke of the physical design, however; the upper baffle is. Experimentally arrived at by Linkwitz, it is surprisingly small, very tightly wrapped around the four upper drivers, and of a very unusual shape. Its purpose is to make the polar response of the speaker as frequency-independent (i.e., neutral) as possible, well beyond the capabilities of the Orion. This is Linkwitz's number one priority and the secret of precise phantom images between the speakers (i.e., lifelike soundstaging) in a correct stereo setup, where the speakers are at least 1 meter away from all walls.
I must digress at this point to emphasize that the LX521 is intended strictly for two-channel stereo (as are its predecessors). Linkwitz has little use for surround sound, at least at its current stage of development. I tend to agree with him, although I must admit that initially I was rather enthusiastic about 5.1 surround. It certainly gives you a feeling of immersion, which is part of, but far from all of, the concert hall experience. The structural specificity of music, the specific location/direction of instruments and voices, disappears in 5.1 surround, most probably because the latter is not a mirror-image playback of what the microphones picked up but rather an "authored" mix, where an editor has decided what goes into each of the channels. Two-channel stereo, on the other hand, when the original live music was a frontal presentation, can give you a very precise idea of the soundstage details, especially through a pair of loudspeakers like the LX521. (A movie soundtrack is, of course, another matter. If you want to follow that Black Hawk helicopter passing over your head, you need 5.1.)
The other new feature of the physical designs is the so-called bridge, which is nothing more than an open box (no front, no back, no bottom) placed over the woofer frame with just a half-inch gap. Its purpose is to isolate the relatively light upper module from the unavoidable residual vibrations of the woofer module.
Driving the LX521 requires three or four power amplifier channels per side, depending on whether you connect the woofers in parallel or drive them individually. Parallel connection results in an impedance of 2 ohms, a difficult load for many amplifiers. I still use the 12-channel AT6012 (Amplifier Technologies) and find it totally adequate in my 22-by-20-by-9-foot listening room. Megawatt enthusiasts may disagree.
Please note that all of the above is about a design, not a product. There is no company producing the LX521, even in small quantities. It is basically a DIY project, with Siegfried Linkwitz selling the construction plans plus the blank printed-circuit boards for the ASP, and outfits like Madisound in the USA and Dr. Frank Brenner in Germany selling full kits in various stages of completion. (Dr. Brenner will, on special order, sell you a turnkey LX521 system, but it's not a production item.) There is also a digital alternative to the ASP, with which I have no experience whatsoever. Go tohttp://www.linkwitzlab.com/LX521/DSP_challenge.htm for details. (In fact, linkwitzlab.com should be your main source of information for all the theoretical and practical details missing from this review. As I said, it is the loudspeaker website.)
The Measurements
The LX521 cannot really be properly characterized by the conventional two or three frequency response measurements. They would be meaningless. The main difference between the LX521 and lesser speakers is the total power response into a half-sphere space, and to measure that is beyond the capabilities of my home laboratory and MLS software.
Even on linkwitzlab.com there is only one LX521 response figure, illustrating the first-order passive crossover (see http://www.linkwitzlab.com/LX521/Description.htm, "From F3 to LX521"). There is no figure for the total response. If I showed here a single frequency-response curve on the 0° axis, it would not be flat because the response is deliberately shelved at both ends to compensate for various effects that are ignored by the flat-from-dc-to-light school (e.g., the head-related transfer function in stereo listening). Barring the availability of Harman International's anechoic chamber (70-odd frequency response measurements into a 4π space!), or very extensive outdoor measurements that are far too difficult for me, I cannot prove here with graphs that the LX521 is what it is.
For what it's worth, you could check out the response curves of the individual drivers on the SEAS website. They are honest measurements; no doctoring. Woofers:http://www.seas.no/index.php?option=com_content&view=article&id=305&Itemid=266. Lower midrange:http://www.seas.no/index.php?option=com_content&view=article&id=320&Itemid=272. Upper midrange:http://www.seas.no/index.php?option=com_content&view=article&id=319:h1658-04-mu10rb-sl&catid=29:prestige-woofers&Itemid=273. Tweeters:http://www.seas.no/index.php?option=com_content&view=article&id=186&Itemid=182.
The Sound
I am journalistically challenged here. I have praised the sound of the Orion to the skies, more and more with each successive version, and now I am out of superlatives. How shall I characterize the sound of something better than what I have called the best? Well, I can give it a try.
Let me go back a decade, for the moment. When the original Orion made its debut, the sound of the open-baffle, powered, and equalized dipole was so different from any monkey coffin's, even the most advanced and costliest ones, that it was truly night and day. It was a startlingly open, untrammeled sound, without the immediately recognizable boxy signature of enclosed speakers. What's more, it got further refined with each new modified version. You could close your eyes, listen to that sound, and with a little bit of mental effort pretend that the speakers have disappeared, leaving only the living soundstage in front of you.
The main difference between the Orion and the LX521 is that the latter requires no such mental effort. The speakers naturally disappear as soon as you start the music; you don't even have to close your eyes. I would go even further—you have to make a slight mental effort to be aware that the speakers are actually there! It's uncanny. What it proves (at least to me) is that radiation pattern is the chief determinant of loudspeaker quality and that the unique shape of the LX521's upper baffle is a significant breakthrough.
The precise phantom images produced by the LX521 create the most solidly three-dimensional soundstage of any stereo system in my listening experience. In the end, that is more important in producing a you-are-there effect than the superior definition of instruments and voices, the "texture" of the sound, where the LX521 may perhaps be equaled by other loudspeakers using advanced drivers.
As for the midrange neutrality that has been Don Barringer's obsession with his Orion mods, the LX521 makes an end run around the problem with the addition of the 4-inch upper-midrange driver. It is no longer an issue. The midrange is totally relaxed and natural without any heroic effort. The tweeter is happy just tweeting instead of having to handle the upper midrange. (Don used to wonder why a kitchen radio can have a neutral midrange while the Orion's needed endless massaging.)
I need to add that the bass quality of the LX521 is audibly superior to that of the Orion with the original Peerless drivers. (My Orions retained the Peerless woofers while going through all the successive mods, including Barringer's.) The latest Orion versions were equipped with the same SEAS woofers as the LX521, but I had no opportunity for a comparison. In any case, don't even think about subwoofers. The LX521 doesn't need them. Even the lowest organ pipes are reproduced with authority.
Summing Up
I have not tested or even briefly listened to every high-end loudspeaker out there, but of all the speakers known to me none equals the Linkwitz Lab LX521 in my opinion. I have been to a few audio shows fairly recently and auditioned the most highly touted speakers there, and after each listening session I just shook my head, wondering how they could charge so much money for such obviously canned, unlifelike sound. It's as if the designers had never heard live acoustic music in a concert hall. Siegfried Linkwitz has not only established a new paradigm but has also proved that throwing money at each component of a speaker design, and then charging the consumer with a huge multiple of the cost, is not the way to go. Instead, the simple and cost-effective principle of the "spectrally neutral radiation pattern" rules!
Benchmark DAC2 HGC
20 August, 2013
Latest DIY Orion Mod
08 January, 2013
Computer Speaker
23 November, 2011
New Orion Versions
12 July, 2011
Latest Orion Revision
04 December, 2010


Lenny Revisited
18 November, 2009
---



Impressive Video
31 October, 2009
---


Micro Speaker
22 July, 2009


---


Benchmark Preamp/DAC
07 July, 2009
---


A Unique and Unexpected Audio Experience
27 April, 2009
---


Recent CDs/DVDs
peteraczel | 15 April, 2009 15:42
---


Pluto-2
12 November, 2008
---


CDs/SACDs Again
30 July, 2008
---


Sony HD Tuner
15 May, 2008
---


Orion++
peteraczel | 30 March, 2008 09:47
---


More CD/SACD
09 November, 2007
---


Redbook vs. Hi-Rez
17 October, 2007
---


AT6012 Amp
15 October, 2007
---


Letter to Ed.
08 July, 2007
---


Spherex Surround
03 June, 2007