IBM 4100 and Xerox 850CF High-speed Web Printers
I'm often asked what do I do for a living when I reply that I supervise the Midnight Shift in the Imaging department which includes two IBM 4100's and a Xerox 850CF (we also have Xerox 6135's and 4635's cut-sheet machines) they automatically assume its a computer system of some sort, when I explain that its a high speed roll-fed printer they look at me funny. so below are a few pictures to give you an idea of what they look like. I'm also responsible for File Management, basically I ensure the servers that feed the files to the printers are maintained and working correctly.
To see a couple of videos click Here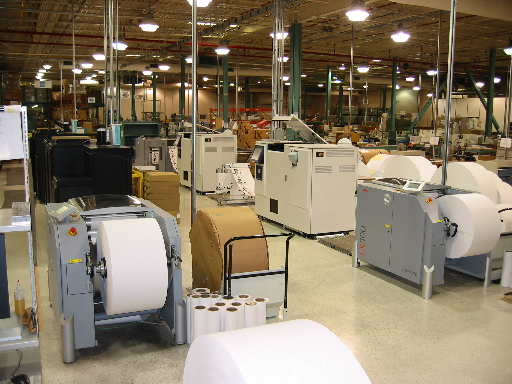 click on photo to enlarge
Here's my Daughter posing in front of one 52" roll which weighs around 1,000 pounds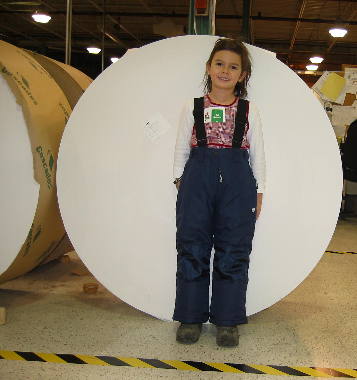 click on photo to enlarge
Here is some information from IBM's Website:

IBM Infoprint 4100 Advanced Function Printing System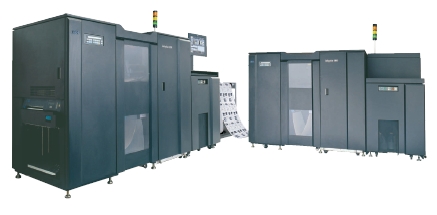 The IBM Infoprint ® 4100 Advanced Function Printing System is a next-generation digital publishing and production output solution. This continuous forms printer can produce the high image and text quality traditionally available only from cutsheet solutions, and prints on a wide range of paper. In addition, the Infoprint 4100 provides one of the highest speeds currently available for electrophotographic printers and allows users to produce more output with fewer devices and less operator time. Book printers can use the Infoprint 4100 to help reduce the costs of printing short run books or technical manuals. Direct mailers and service bureaus can lower costs by running a broad range of paper weights at higher speeds. And enterprise production centers printing statements or publications can reduce operation costs with the higher speed and the flexibility of integrated pinned or pinless printing- all while providing a high level of print quality for text, graphics and images for a competitive advantage.
Highlights
High speed at up to 330 linear feet per minute (720 8.5''x11'' sheets per minute)
Industry-leading 600-dpi image quality
Enhanced Productivity Tracking Tool
Extra-wide format (19.5" paper width; up to 19"print width)
Support for a wide range of paper
Here is some information from the Xerox Website:
DocuPrint™ 850 Continuous Feed


The Xerox Continuous Feed family of products includes high-speed systems that propel you to productivity and profitability. A complete transactional printing and publishing solution from the leader in digital production printing. Xerox Continuous Feed digital printing systems offer advanced technology, superior quality and a secure track for growth-setting new standards for productivity in any environment. These high-volume, quickturnaround systems are nonimpact, laser-based, digital web printers designed to keep your business on schedule, with exceptional throughput, reliability, ease of use and flexibility.
Highlights
High speed at up to 425 linear feet per minute (850 8.5''x11'' sheets per minute)
600 x 600dpi image quality
Wide format (17.5" paper width; up to 17"print width)
Support for a wide range of paper
I also have a couple of Videos of the IBM 4100 running

30 second clip (2.26MB)

2.5 minute clip (10.8MB)