biline bike build
Back to the MTB Home Page Section
Why build a bike when so many are available?
To be honest it will probably cost more to build a decent bike then it will cost to purchase any of the readily available brands, so it comes down to being able to customize your build uniquely to your needs. I suspect that being able to choose whatever blend of components you wish and the ability to create any sort of colour scheme is also a major draw. I obviously have decided to build my own Mountain bike and I have learned a lot through the process about choosing the components that deliver the best performance at a reasonable value. I believe I have accomplished my goals, I will explain all of my choices and the reasoning behind each one. Here is a picture of my little Frankenstein (click to enlarge)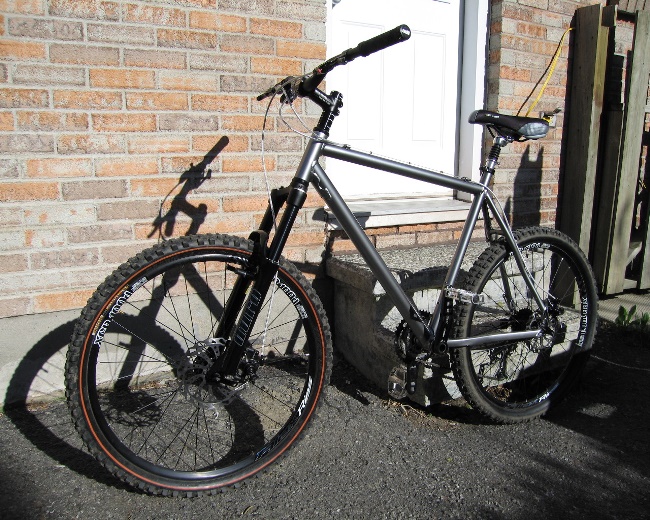 Deciding on your build parameters:
Budget
Budget is the number one determinant in any project and I originally set mine at $600
I actually spent close to double my budget after all the little surprises such as delivery, duty, handling fees and taxes.
Frame choice
Based on a number of factors such as price and riding style I decided to look for a 'Hardtail' frame. A good dual suspension frame starts around $500 and would have really blown my budget right off the bat. Also most dual suspension frames have shocks that are not designed for rider weight over 200lbs, you need to upgrade the coil spring to a extra stiff spring, that's assuming you can actually obtain one for the frame you purchase. Some frames have air shocks which allow you to add air to solve the issue but ride very stiff with a quick rebound when under a heavy rider.
The other problem is that I'm a very tall rider (6' 4") so I require a 22" frame. I have a friend who uses www.chainreactioncycles.com and he has nothing but good things to say about them so I started looking for a suitable frame from their selection. I stumbled upon a frame made by 'Brand-X' turns out any parts purchased from a bankruptcy or 'no-logo products' (same product as a name brand with a minor cosmetic change and no identifying logos) may be included in the Brand-X label. The frame was labeled 'XC Hardtail II Triple butted', I was able to determine by chance that this particular frame was made by the now defunct 'Dirty-Jo' mountain bike company (note picture is not a 22" frame)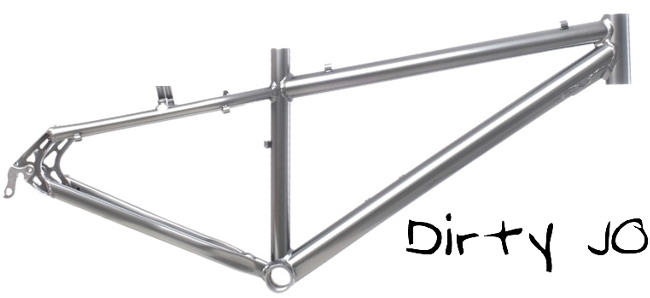 The specifications were quite good and the reviews from other purchasers seemed to indicate that this was a very good frame for the low price of $173.00 and is was available in 14",16",18",20" and 22".
Triplebutted 7000 series Aluminium
Disc & V Brake mounts
Brake hose routing
Replaceable mech hanger
Weight is around 1560 grams/3.4 pounds (18" frame)
• Bottom bracket: 68mm
• Seatpost: 27.2mm
• Seatclamp: 31.8mm
• Front mech: 31.8mm
• Headtube length: 110mm/1 1/8" head tube
Front Fork Choice
I was aiming for a all purpose bike that would cover 'Cross Country' and handle 'All Mountain' with a small overlap into 'Freeride' but the choice of frame would limit me to the first category and maybe 50% of the AM category. I wanted to ensure the fork was future proof, if I ever decided to upgrade the frame to something more suitable. I read a lot of reviews and decided a fork with 130mm (5") of travel would work with the existing frame and would swap into a AM/FR frame. I liked Marzocchi shocks but I read that since they moved the factory from Italy to Taiwan that the quality went down slightly, what was more interesting is that Suntour shocks were made in the same factory and supposedly used the same basic parts. The difference in price between the two shocks was considerable with the Marzocchi costing around $300 while the Suntour was $135 so I went with the Suntour Duro shock with 130mm travel. Pretty well all of my purchases are from www.chainreactioncycles.com so unless otherwise noted that's where you should be able to find all of the parts. I noticed that this shock was no longer available on the website so as with all great deals they may be for a limited time only!
(click to enlarge)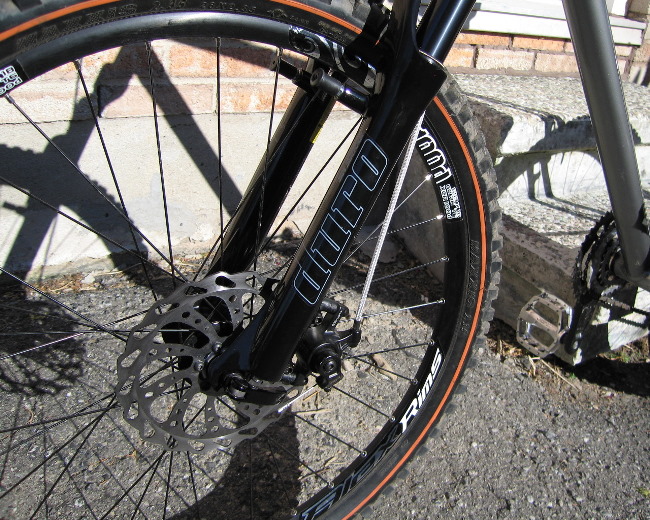 The specifications for these shocks are:
Travel: 130 mm
System: Coil spring/Hydraulic
Design: Leading axle/Disc only design
Crown: New shape alloy
Integrated HD: ID type / 50mm
Steerer tube: Cro-mo/Reinforced strong type
Magnesium body
Adjustable rebound
Weight 1900 grams/4.2 lbs
I need some wheels
I wanted some strong wheels for obvious reasons so I decided that 32 spoke wheel was a must and I preferred a welded seam so I went with Brand-X Hubs on Alex XCR-100d Rims, the Pair was $100
Specifications for the wheels:
High quality brand X sealed hub body for durability, with hard wearing cassette body (sealed) designed (front and rear) rear hub designed for 9 speed cassettes, finished in a subtle black finish. Strong Alloy hub body with 6 bolt positioning holes
Rim Features:
• Precision welded technology. Lightweight.
• Disc rim for XC racing, All Mountain, Marathon
Tech Spec
• Welded joint, 32 hole
• Black W/SSE
• 26" 559X18 400g
Complete with rim strips and QR's (Quick Release)
Crankset and Pedals
I just wanted a decent set that would not break my budget so for a mere $79 I settled for 'Race Face' Ride XC crankset with a 73mm Bottom Bracket from the Jenson USA website. The product was 'OE', or "original equipment" item. Components with this description are from brand new bicycles which have been previously assembled, but never ridden. OE items may be delivered in plain packaging and may not include instructions. Because these items were removed from complete bicycles, they may show minor marks from the installation process. Each OE item has been checked to verify that it meets the same high standards as our other products, and Jenson USA offers the original warranty that comes with a consumer packed item. The specifications are below:
Crank arms are net forged from 6066 aluminium with aggressive styling for a high strength to weight ratio.
All Race Face XC cranksets feature the 'EXI' interface external bottom bracket system for easier crank installation and removal with standard tools.
Retains the same 3mm range chainline adjustment feature as high end X-Type cranksets which aids in dialing in drive train performance.

RIDE's hard wearing 7075 aluminium 44 tooth outer chainring has been upgraded and improved for 2008 with extensive CNC machining for shifting accuracy and sharper looks.

Features lightweight, forged and CNC machined CrMo steel EXI spindle.

BB cups are forged & CNC machined from high strength 6066 aluminium.

Bearings feature new custom triple wiper seal to better retain grease & keep contaminants out.

Bearings are factory filled with Phil Wood waterproof grease — tested & proven to extend bearing life.
Pedals would seem like an easy enough choice but the big decision is weather to go for 'clipless' pedals or 'flats'. Clipless pedals (also clip-in or step-in) require a special cycling shoe with a cleat fitted to the sole, which locks into a mechanism in the pedal and thus holds the shoe firmly to the pedal. Most clipless pedals lock onto the cleat when stepped on firmly and unlock when the heel is twisted outward, although in some cases the locking mechanism is built into the cleat instead of the pedal. Clipless refers to the toe clip (cage) having been replaced by a locking mechanism and not to platform pedals (flats) which would normally not have toe clips. Clipless pedals offer advantages such as your feet don't slip off the pedals and your power is transferred more efficiently to the pedals. Many professional riders prefer the enhanced feel when using flats over clipless pedals and the ability to very easily remove a foot or change the foots position on the pedals. I went with flat pedals from MEC (Mountain Equipment Co-op) and I choose the simple $10 Victor VP-565 Pedals.
(click to enlarge)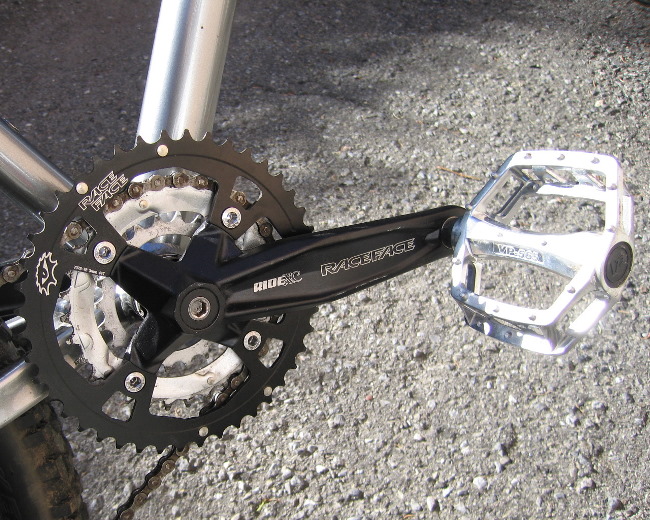 Whoa how are we gonna stop this thing?
Disc Brakes offer many advantages over other technologies so it was an obvious choice but should I go for the Mechanical system or Hydraulic disc brakes? Turns out the prices between the two systems are pretty much the same at the starter price levels but quickly go up for hydraulic. Hydraulic brakes offer better modulation than mechanical systems but Hydraulic brakes need to be serviced at least once per season and bleeding kits are required which adds to the overall maintenance cost. Hydraulic brake cables are another issue as cutting the cables to the correct length requires special tools and the brakes will need to be correctly bled to work properly. Mechanical brakes require very little maintenance and provide 85% of the stopping power of Hydraulic brakes. In fact the Avid BB7 mechanical brake offers better stopping power and modulation than the cheaper hydraulic systems. I was trying to keep costs down so I opted for 2 Hayes MX4 mechanical brakes at $44 each, with Clark wavy rotors 160mm/6" in the rear and 180mm/7" in the front, each rotor was $13.
(click to enlarge)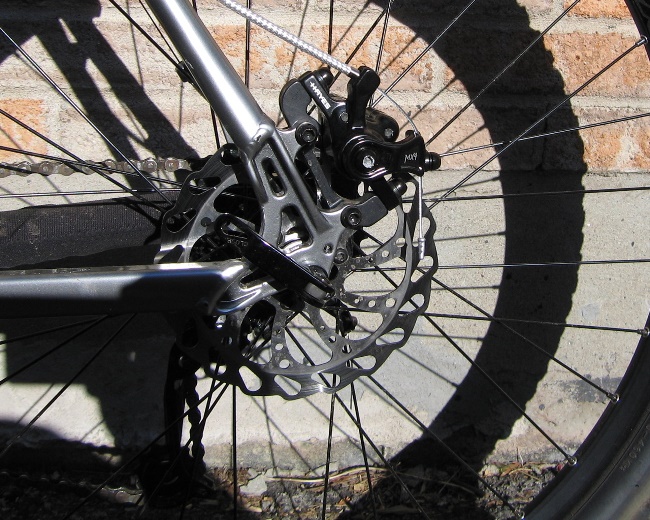 The specifications for the Clarks rotor and Hayes MX4 brakes are:
Large compression spring results in lower lever effort with smooth action
Durable Outer thrust bearings
Reliable Multiple bearing ball ramp system for smooth feel
Strong 2 piece die cast body with stiffening bridge bolts
Weight: 325g
Clarks wavey rotors are made from corrosion resistant steel, without the loss of performance even on the most arduous decent.
I choose Avid Speed Dial 7 brake levers to mate with the Hayes because of the unique adjustment dial, it allows you to adjust where the levers are pulling the cables from which allows you to alter the overall resistance required to pull the levers, quite nifty actually and a pair of levers was only $22.
Rear Derailer and Cassette choice
I decided to get a 8-speed cassette for two reasons the primary reason is the low prices as the market is moving to 9 and 10 speed cassettes and the ease of adjusting a 8-speed set-up versus the newer 9 and 10 speeds. I grabbed a Shimano HG40 8-speed cassette for $16 and I paired it with a Shimano Deore Rear Derailer Shadow M592 which set me back $43 and I spent another $20 for a SRAM PC870 Chain. Shifting duties is handled by SRAM Attack Trigger 8sp Shifter which cost me $39. I decided to forgo the use of a front derailer as I almost exclusively use the middle gear and I intended to install a Blackspire Black Guard Inner Ring Protector to prevent any chain drops. I ended up with a clearance issue and was not able to install it with the frame I ordered, sucks but I'm holding on to it in case I change my frame eventually.
How long is your handlebar?
Believe it or not a lot of discussion is ongoing about the best length of handlebar to use, it seems longer is better and it makes sense as it allows for a spaced grip which in turn allows for better and precise control in turns. Also with the chest area more open it allows for better breathing. The downside is that in some trails you may have 'fit' issues as your bar hits the trees while riding through the trail. I opted for a 28" bar with ODI X-Trainer MTB Lock-On grips.
(click to enlarge)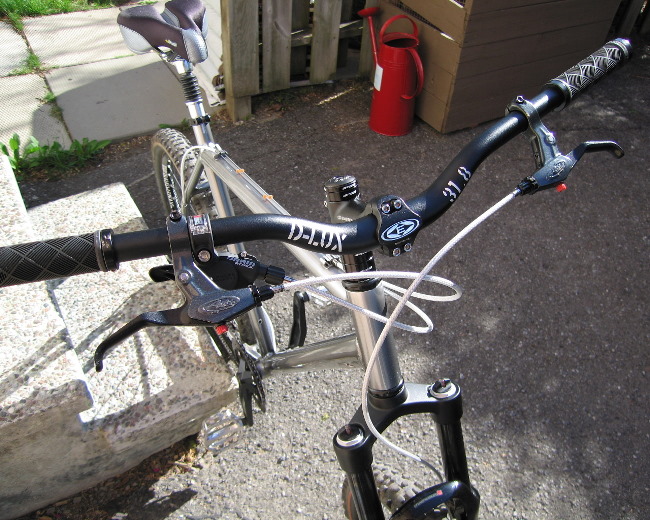 I also choose not to cut my fork down to size and added the needed spacers instead this helps in getting the bars closer to my preferred height and it means I will have no issues transferring the fork to another frame if I decide to purchase one. The bars have a 31.8mm rise and I used a Cane Creek headset and an Eastern EA30 stem. I think that's everything but just in case I broke down the entire build with all costs including taxes and duties.
Description of Part ordered

Price
Brand-X Hubs on Alex XCR-100d Rims 32h-26" [Pair]
$101.67
Suntour Duro - 130mm IS Mount
$141.24

Brand-X XC Hardtail II Triple Butted 7000 22"
Shipping HST + extra charges Frame

$176.56
$55.54

Brand-X Seat Clamp & Bolt 31.8mm
$7.05
Clarks Pre-Lube MTB Brake Cable Kit
$16.93
Shimano Deore/XT Inner Gear cable
$5.63
Shimano Deore Rear Derailer Shadow M592
$56.48
Brand-X Alloy Micro Adjust seatpost 27.2mm 350mm
$11.28
FSA Spacer Alloy -10MM
$2.81
FSA Spacer Alloy -20MM
$3.52
FSA Spacer Alloy -20MM
$3.52
Hayes Mount Adapter Rear IS - 160mm
$9.89
Hayes MX-3 Mechanical Brake
$21.15
Clarks Wavey Rotor - 160mm
$14.11
Front Tire Maxxis DH Mofo 26"
$18.00
Shipping HST + extra charges parts
$36.57
Race Face Ride XC Crankset 73MM BB 170mm
$121.59
Star-nut Installation
$8.00
Cassette 8spd
$16.92
Neoprene chain sleeve guard
$10.00
Victor VP-565 Pedals
$11.30
Presta Tube [Pair]
$10.16
Misc parts (nuts bolts)
$6.82
Brave D- lux Handlebars 2010 - 31.8mm High Rise
$28.51
Easton EA30 Stem 2008 - 90mm +/- 6 Deg Black 31.8mm
$21.41
Blackspire Black Guard Inner Ring Protector - 4-Bolt
$32.81
SRAM Attack Trigger Shifter 8sp - RH Rear
$38.53
ODI X-Trainer MTB Lock-On
$28.55
Avid Speed Dial 7 [Pair]
$22.83
Hayes MX-4 Mechanical Disc Brake 2010
$45.66
Clarks Wavey Rotor - 180mm
$14.25
Hayes Mount Adaptor Front IS 7" - QR Fork
$17.11
Clarks Pre-Lube MTB Brake Cable Kit
$17.11
FSA Spacer Alloy - 10mm 1.1/8"
$2.84
SRAM PC870 Chain 8sp
$19.97
FSA Spacer Alloy - 5mm 1.1/8"
$2.84
Shipping HST + extra charges parts
$49.81
Grand Total
$1208.97
Viper?
I should have stayed away from the internet because I have a new 54cm/22" Dual suspension frame on it's way from www.chainreactioncycles.com have a look at it below I'm hoping the Canada Post strike doesn't affect delivery :-(
I'll let you know the total cost but the frame was great deal coming in at $700 in fact it was the cheapest full suspension frame offered by them, the exact description is 'Viper Freeplay Frame - Fox RP23 2011' and the direct link is Here. Also it's one of the few frames they can ship to Canada, many of the frames offered have a small note at the bottom of the description it simply says 'Not Available Outside the EU' which means Canada is out of luck, if you try Jenson USA the same problem it displays 'This item cannot be shipped to Canada.'
Specifications for the frame are:
With 140 mm travel this frame meets the new must for full suspension. It takes you everywhere, from bikes park to extreme downhills. Designed for 140mm travel forks.
Hand-made bike: Hop on a mountain bike of the prestige series and you forget everything you thought you knew about mtb performance. We designed a unique machine without compromise on quality and choice of materials. The prestige line is entirely assembled << A la carte>> in our workshops by craftsmen. (Hand made in Belgium)
Features:
• 7005 Superlight double butted tubing
• Rear shock: Fox RP23
• Seatpost: 30.4mm
• Travel: 140mm
• Weight: 2.6kg
I found very little information on the internet about Viper, I did find out that they only have dealers currently in Belgium, Luxemburg and France the main company SA BRASSEUR is part of the Accell Group, an international stock-exchange listed conglomerate of leading cycle manufacturers. Now Brasseur makes Viper, Diamond, Red Line, Ghost and Hello Kitty (Kids bikes). I also found out Viper"s Concept Bicycles was founded in 1997 and I managed to find a french website in Belgium selling the Viper Freeplay bike and it retails for $3,149 which is not by any means a cheap bike. I suspect the manufacturer is trying to expand their market outside of Belgium and as a virtual unknown has set the prices for their frames much lower than most 'known' brands hoping to spread the word about Viper and eventually be able to command higher prices. All I know for sure is a hand made frame from Belgium is probably better than any mass produced frames from Taiwan!
Update June 1st 2011
The frame has arrived and for some reason I managed to avoid any extra charges for the frame perhaps the pending postal strike has resulted in some stuff slipping through the cracks. Unfortunately the frame did have a spot of damage on the bottom of the tapered head it's mostly cosmetic and the integrity of the part looks fine, have a look at some of the photos.
Click to enlarge any photo
| | | |
| --- | --- | --- |
| Small area of damage | Handmade with 6061 alloy | BB and Swing-arm |
| Main tube welding | Fox Float RP23 shock | Derailer hanger |
| Rear swing-arm | Frame - front section | Complete frame! |
6061 v.s. 7005 aluminium
If anyone has noticed the description of the frame says it uses 7005 aluminium but the label on the frame clearly says it uses 6061 aluminium. so which is better you may be wondering well 6061 and 7005 are the two most readily available aluminium alloys to make frames. 6061 is made from aluminium, magnesium and silicon and is generally considered superior to 7005 which is aluminium and zinc. 7005 can be stronger as the tensile strength of 7005 is 51,000 psi vs 45,000 psi for 6061 (tensile strength measures the amount stress required to cause complete failure). The greatest differences in strength will come from the quality of the welds and selection of tubing shapes and thickness. The strength differences between 6061 and 7005 alloys are fairly negligible but 6061 is easier to manipulate making butting and tube shaping (ovalizing and tapering) less costly. 6061 requires precise liquid cooling as part of the heat-treatment process, whereas 7005 can be air cooled. Essentially builders make better and lighter designs easier with the 6061 but due to the degree of manipulation, and the liquid quenching, a 6061 frame is typically more expensive to produce. Hopefully that answers the question!


Tapered Heads?
Who came up with this disaster, almost all new frames come with tapered heads which is fine but try and find a tapered fork, I think I found 2 or 3 and they started in the $1000 range. I suspect many others including myself will be sticking with the old and simple 1 1/8" fork but herein lies the problem a tapered head has a 1 1/2" bottom and a 1 1/8" top so how do we stick our old forks into this oversized hole. The solution is to use an adapter such as the Zerostack by e*thirteen while not perfect does the job. A better solution is to use a headset that is designed to use 1 1/8" fork with 1.5" taper head tube frame and I managed to find one at my fav online store for $55 it's called 'Da Bomb Depth Charge Headset - 1.5" Reducer 2011'. It was ordered and shipped on May 30th by Royal Mail so it should take 5-8 days to arrive assuming no delays to a Canada Post strike, no further progress can be made until my precious little package arrives.
Update June 14/2011
Luckily my bike parts arrived just before Canada Post locked out the Postal workers so I'm in the middle of switching my components to the new frame I'm hoping to try it out this weekend and grab some photos at the same time.
Update July 12/2011
I've had a chance to extensively test the new Viper frame and I'm very happy with the frame and completed bike. I was astonished by how light the bike feels, I hardly notice any difference in overall weight compared to the original hardtail configuration. Now that I've driven both I can say I prefer the full suspension ride to that of a hardtail, it's not to say hardtails are bad they just offer a stiffer type of ride and full suspension bikes are smoother and much more forgiving to rider error. Admittedly riding in Kanata Lakes is just that much easier with a full suspension bike than with a hardtail. I've done some drops and a few jumps which is something I was not doing with the hardtail simply because I didn't think it would survive the abuse. So below is the photo of the completed project, enjoy!
(Click to enlarge)