Epoch 1/43 Indoor Racer review

EPOCH's Indoor Racer 'Spec 2' is a fully proportional 1/43 'professional' radio-controlled car at one half the size of the Mini-Z and Xmod. The package includes charger, radio transmitter, AM 27 MHz crystals, pre-painted ABS plastic body, chassis. The transmitter features digital proportional steering and forward/reverse throttle. New floating front and rear suspension system. Charger charges the 3 built-in NiMH batteries in car via a small cable. A charge time of 2 minutes provides an usage time of about 6 - 9 minutes. A maximum of 12 cars can simultaneously run by exchanging the crystals.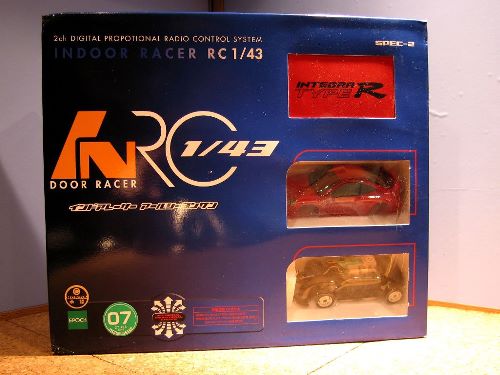 Features:
Ergonomic pistol-grip controller
27 MHz. Interchangeable crystal / 25m range
High / Lo speed option. Throttle trim. Steering trim.
Amp-FET + micro servo
Applied reverse brakes
Body: 110mm x 48mm x 42mm
Chassis: Duracone double deck type
Three-point suspension system
Front suspension: Independent coil-over spring
Rear suspension: T-bar
Gearing: 3-pinion rear differential
Battery operated chassis,integrated on-board NiCD (it's actually a NiMh)
Charger unit with auto power cut-off
I ordered the Epoch Indoor racers from www.tinyrc.com and the price for the Epoch was $49.99 with a shipping cost of $18.26 and when the package arrived I paid the GST and customs brokers fees of 11.85 for a total cost of $80 (at least our Canadian dollar was at par for a change). One issue I had was that the Honda arrived with a missing rear tire so I promptly opened a support ticket to Sales outlining the issue and gave them my order number, two weeks later and the ticket has not been answered. So I ordered a few more parts including special 'soft' grip tires and the AC Charger along with a few rims and of course a set of regular tires. Mind you I have not had any other issues with my dealings at TinyRC.com all three of my previous orders went through in a timely fashion and everything else arrived in intact with no issues, but I would like my query answered in defense of TinyRC perhaps I submitted the question to the incorrect department but I'm fairly sure they are not so big and busy Sales could forward the issue to the person that needs to address my issue. This doesn't bode well in terms of after sales service so I'll update this page whenever anything transpires in this matter.

Updated (Feb 18-08)
Well it took close to three weeks but my support ticket was answered with an apology for being so late because they were closed for a week and fell behind. They mentioned they would send it with (hint hint) my next order. I replied I had made two orders since my original for parts which of course included tires, the last one shipped on Feb. 6 so they replied to me four days after fulfilling my last order. I hope they decide to ship the tire anyway as it would probably cost very little to send it in a first class envelope. I'll let you know if it ever shows up.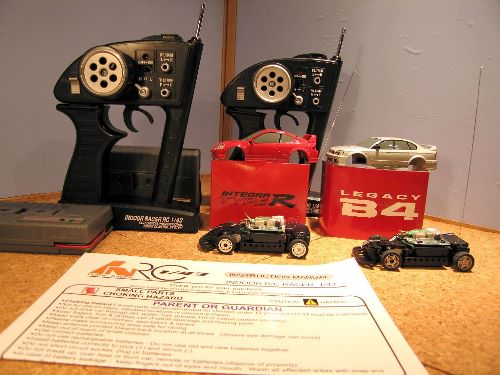 The box contains the controller, charger, manual and Epoch Indoor racer again like other manufacturers Epoch has included a battery powered charger and it charges in a respectable 2-3 minutes. Epoch also sells an AC adaptor to be used with the charger if you so desire.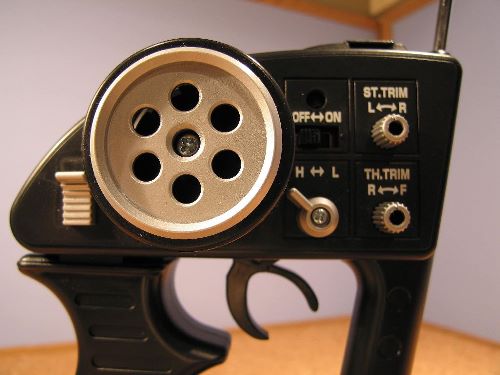 At first glance the controllers seem pretty flimsy and I can say only after using them for a while can you appreciate that they work rather well and have two nice features the first being a throttle' restraint' system marked H (high) or L (low) it adds tension to the trigger so that it requires more force to move it to full throttle this allows you to have really fine slow control of the acceleration of the Epoch and you can still go full throttle when desired. the second really neat feature is the controllers ability to fit smaller hands, take a closer look at the two photos below.
The first photo shows the controller at the standard position the second photo shows the controller at the second or small setting, you can see that the handle has moved closer to the trigger to allow smaller fingers to reach it more comfortably.
This the Epoch Honda Integra Type R model number EPO-206R. The paint and detail is rather good and I must admit apart from the painted windows (real tinted windows would be nicer) I can't find any real fault with it. I like the fact the car comes with a 'bumper' which protrudes slightly out and should help to protect the front from any accidents that may happen on the track.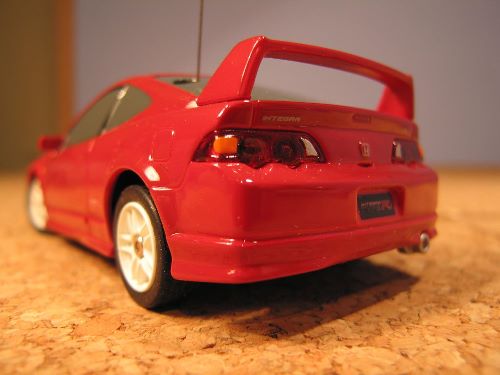 I did notice that the headlights and tail-lights are made from clear and tinted plastic and you'll see further down not all models do and this does make a difference if you decide to install the optional light kit, which you'll see again a little further down.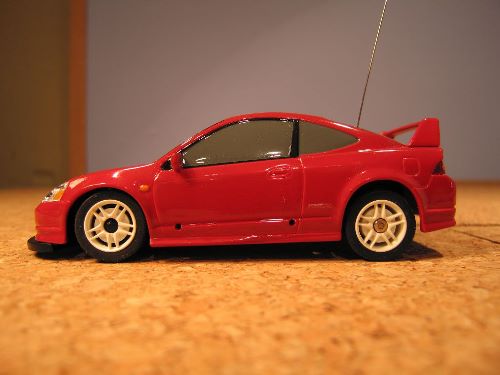 The Epoch have an adjustable suspension that can be raised or lowered by moving a spacer or adding spacers within the suspension, that coupled with a choice of spring softness allows for full suspension tuning. that said the rear suspension is not so tunable it consists of a pivot point and a screw that allows the rear wheels to sit higher (softer) or lower (firmer) it does work surprisingly well.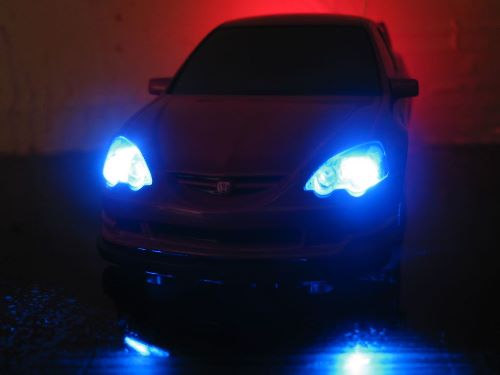 The light Kit used by the Epoch is unusual because unlike most R/C cars it needs to be assembled from parts and soldered directly to the main PCB board if you would like to learn more about assembling the light-kit or see more photos then click Here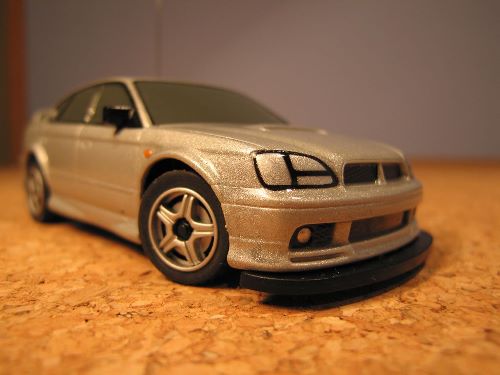 Here is the Subaru Legacy model number EPO-201S as I was mentioning above the Subaru has painted lights and is a poor choice for using the optional light-kit.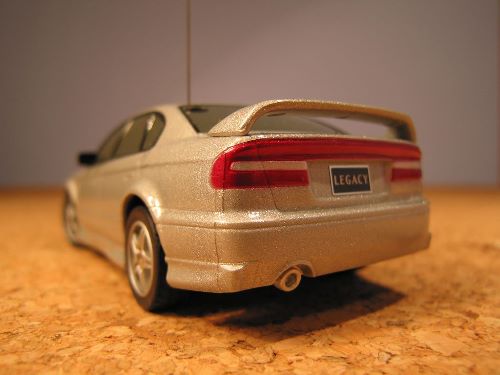 The paint on the Subaru is very high quality and could even be automotive grade paint as the amount of metallic flakes in the paint really gives it a nice look.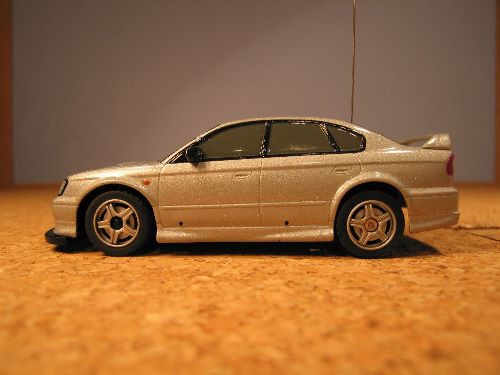 If you have noticed that the rear wheel has a silver wheel lock that's because that particular wheel house the transmission. Epoch has cleverly designed a 3 pinion transmission right into the wheel and it works rather well while being one of the quietest R/C cars I've had the pleasure of running.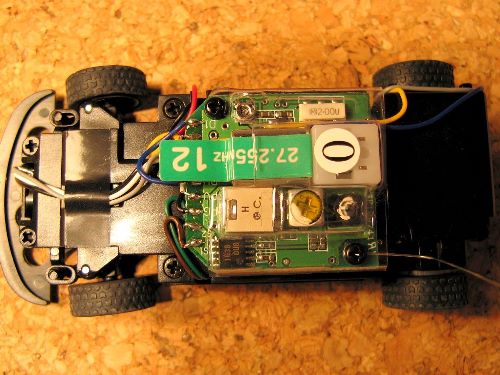 Here we can see the main PCB board and the 'Crystal' you can choose between 12 frequencies and this one is 27.225Mhz or channel 12 I have switched the crystals with the Micro-T and I can report the crystals and controllers are interchangeable which means most crystal compatible controllers will be useable with the Epoch's.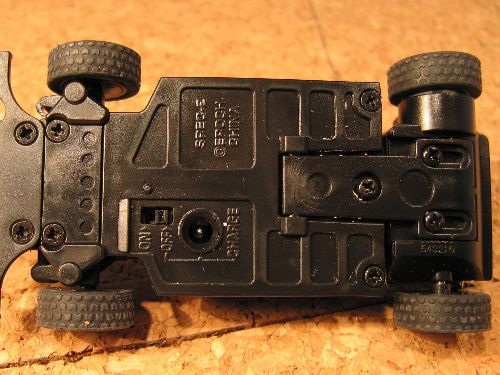 Nothing special on the bottom except the charging port and On/Off switch. Note the adjustments that can be made to the rear wheels they can be moved outward to the extent of the bracket holes which provides a considerable amount of movement rearwards. I have even seen conversions where a slot-car body has been used on an Epoch with the aid of an extender bracket to hold the rear motor assembly. The last item to note is the pivot point and the adjustment screw near the middle of it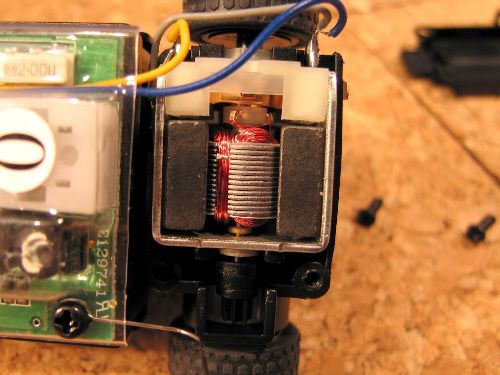 The motor is based on a slot car type motor and runs very quiet and smooth it has a good deal of torque and runs quite cool. If you look under the drive gear you just make out the main transmission which is attached to that wheel.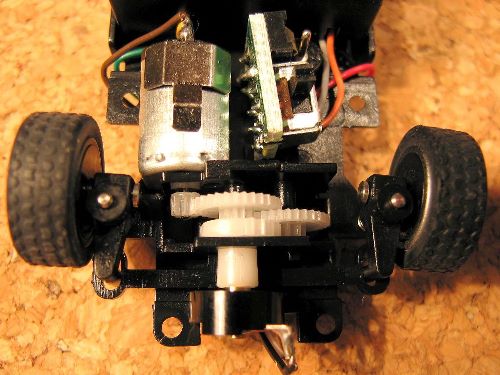 The steering servo is very fast and responsive with no delay if you look closely at the very front you can see the position encoder used by the Epoch to determine correct wheel position.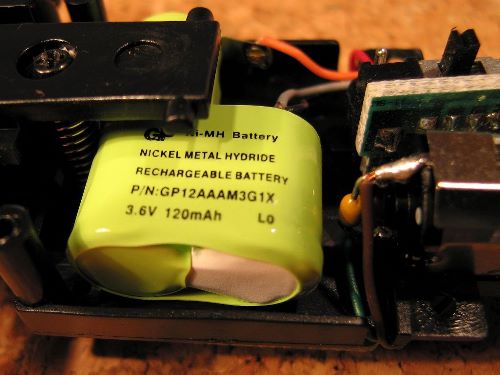 Battery NiMh (Nickel-metal Hydride) rated at 3.6 Volts and 120mah (mAh stands for Milliamp Hour, a technical term for how much power a particular battery will hold) I have had run times in the 15 minute range with this battery and again I have more on this in the charging section a little further below.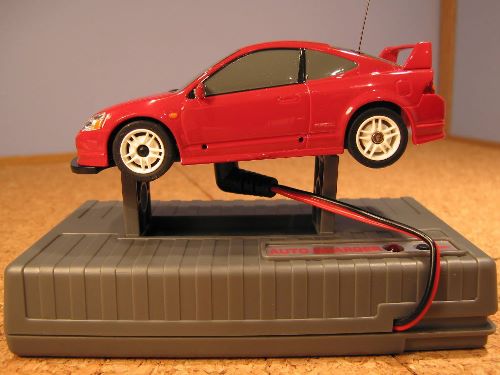 The Epoch's have a port to use an AC adapter which you can purchase through any Epoch dealer I'm not sure of the rating but I've read that this charger due to it's high rate of charge can cause the NimH cells to heat-up so to avoid issues they cut the charge time which results in a battery that is not 100% charged. If you allow a 5-8 minute cool down between charges you can charge multiple times the chart below shows the difference in run rime compared to the amount of charges used.
| | |
| --- | --- |
| *500mA 9Volt (DC) | Run-Time |
| Single charge | 6 min 30 secs |
| Double charge | 13 minutes |
| Triple charge | 14 minutes |
* I wired a 500mA DC adapter directly to the battery terminals to ensure battery life would not effect the tests and I have done them a few times and averaged the times to arrive at the table above.
Updated (Feb 18-08)
I ordered the A/C adapter which was 9V 1.2A and it was made by Atari, charging with it or the batteries resulted in the exact same Run-Times.
I have to say I love these R/C cars they run so smooth and quiet while providing pinpoint speed and steering control, they can be used in all the same spaces as any Xmod and of course have a tighter steering so they can run in a tighter space. these are for lack of a better word the perfect Indoor R/C car for large and small spaces they run fast enough to be challenging and offer pinpoint control that surpasses the Xmod.They offer fast charging time and decent run-time. These models were in 'limbo' for a while and thought to be discontinued but it appears a new US distributor has been found and I've seen a few more online stores offering them. In terms of upgrades I've heard about a dual motor design using 'Coreless' motors (small pager type motors) that will boost the speed to that of a Mini-Z and I'm hoping to try and get some motor upgrade options as the type is fairly easy to find.
You can't go wrong with the Epoch Indoor racer they have replaced all my other R/C cars for use indoors and I can't say enough about them except go buy one you won't be disappointed!
I have created a little video of the Epoch and various R/C cars running on my home-made track you can view a 640x480 or a 320x240 version by clicking the links below. I you would like to learn more about building a track of your own click Here