Tubing at Edelweiss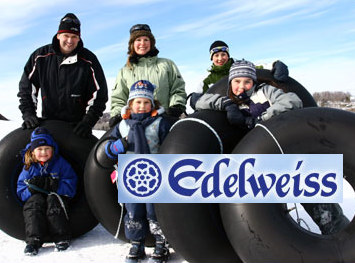 The official web site is
www.mssi.ca
but as it serves for all the ski-hills owned by the MSSI group you'll have to look around to find the Edelweiss tubing section but I have the most important info
below
Most of you are aware that their are many Ski-Hills in the Ottawa/Hull area but I bet most of you weren't aware that only one site that has 'Tubing' is Edelweiss. Tubing is a sport that requires no previous experience or equipment (other than some warm clothes) and all ages will enjoy the thrill and speed of hurtling down the mountain while holding on to your 'Tube'! Obviously these are called 'Tubes' because the are actually the Inner tubes used on large farm tractors a simple piece of rope is wrapped around the 'Tube' and a handle is attached to the rope to allow you to hold onto your tube for the duration of the descent.
We went during March Break (2006) and we had a fairly cool overcast day so the pictures may not do justice to the scenery. We did quite a few activities during the March Break and this particular one was the favorite for everyone. The cost is based on either a 2 or 4 hour rate, we choose the 4 hour rate and even with a break for lunch (good plan to pack one as food is pricey) we managed to get many turns on all six of the runs that were open. I expect it was an average day for the number of fellow 'Tubers' and the lines at the chairlift (three seater) were long but moved swiftly the average wait time was around 4-8 minutes to get onto the chairlift and the wait time to descend a run was less than a minute with the exception of the steepest hill which seemed to attract much longer lines here the typical wait was 4-8 minutes but I admit it was worth the wait!

Click on any photo to enlarge.
Pros
Close to Ottawa only 30-40 minute trip.
A great activity for the entire family no matter what the age of the children or adults.
No equipment or previous experience are needed.
Great scenery and fresh air.
Full cafeteria and washroom facilities.
Feel free to warm up by the fireplace while eating your lunch and Edelweiss has provided many tables for those of us who wish to bring our lunch.
Cost for the Tubing was reasonable and in-line with other typical activities.
Lights for Tubing at Night!
Cons
$2.75 for a softdrink from the vending unit ($1.50 everywhere else)
11 trails - 1 lift

5 years old
and under

6-12 years old

13 years old and +

2-hour block

$6

$11

$13

4-hour block

$6

$14

$16

Full Day or Evening

$6

$16

$19
Regular schedule - Until March 24th 2006

Friday & Saturday : 10:00 a.m. to 8:00 p.m.
Sunday : 10:00 a.m. to 4:00 p.m.

Opened from Monday to Thursday on reservation only.
Call us at (819) 459-2328
Directions to Edelweiss from Ottawa-Hull:
Take route 5 North to road 105 towards Wakefield, continue East on road 366 to Edelweiss. Continue East on the 366 for approximately 7 km. The Edelweiss parking lot will be on your right.